AAMI Publications Win Honors for 'Thinking Big'
August 22, 2019
Contact: Gavin Stern, gstern@aami.org, 1-703-647-2781

AAMI's publications continued their track record for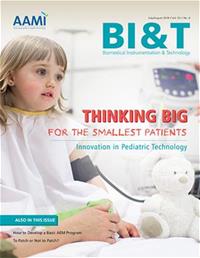 editorial excellence, winning no fewer than six national awards this year for the peer-reviewed journal BI&T (Biomedical Instrumentation & Technology) and its Horizons supplement, the monthly newsletter AAMI News, and a social media campaign that promotes the healthcare technology management (HTM) field.
BI&T, which covers the trends, technical advances, challenges, solutions, industry developments, research, and people in the world of healthcare technology, won awards in three national competitions for its July/August 2018 cover story, Thinking Big for the Smallest Patients. The in-depth feature examines the challenges of developing health technology for children and follows the dedicated medical device developers, health technology professionals, clinicians, and parents who are working to bridge the technology divide.
Written by Gavin Stern, AAMI's director of communications, the cover story received a gold award for best feature article by the American Society of Healthcare Publication Editors (ASHPE), a Grand APEX Award for Publication Excellence for writing, and a bronze EXCEL Award for best journal feature article.
AAMI's popular #IamHTM social media campaign won a silver EXCEL Award, an annual competition that recognizes excellence and leadership in nonprofit association media, publishing, marketing, and communications. This ongoing social media campaign seeks to heighten awareness of HTM professionals as "vital members of any world-class healthcare delivery team" by featuring diverse members of the profession on social media. The campaign is led by Stern and AAMI's Vice President of HTM, Danielle McGeary.
The summer 2018 issue of BI&T's annual supplement, Horizons, also won a silver EXCEL award. This topic-specific publication, edited by Managing Editor Joseph Sheffer, explored the challenges and opportunities facing healthcare in its journey toward optimizing data-based decision making.
A vital resource for health technology professionals, AAMI's monthly AAMI News publication won an Award of Excellence by APEX, an annual competition for publishers, editors, writers, and designers, in the newsletter category. AAMI News is the premier source for health technology news, relied on by readers for clear and timely coverage of regulatory affairs, standards activities, industry updates, career trends, and AAMI programs.
AAMI publications were also honored by the American National Standards Institute's President's Award for Journalism in 2019.
Sean Loughlin, AAMI vice president of communications and marketing, said the honors "speak to the intelligence and passion of the health technology community, as well as the talents of AAMI's editors who are committed to producing sharp and engaging content for our members and other stakeholders. The team is dedicated to building on AAMI's status as an essential resource for health technology professionals."

AAMI (www.aami.org) is a nonprofit organization founded in 1967. It is a diverse community of more than 9,000 healthcare technology professionals united by one important mission—supporting the healthcare community in the development, management, and use of safe and effective health technology. AAMI is the primary source of consensus standards, both national and international, for the medical device industry, as well as practical information, support, and guidance for health technology and sterilization professionals.