Join the AAMI Standards team for the new AAMI Standards Insider webinar series! This series of webinars provides quarterly updates and news about AAMI's standards program and our standards development activities. On this page, you will be able to find recordings of past webinars and explore the schedule of upcoming webinars.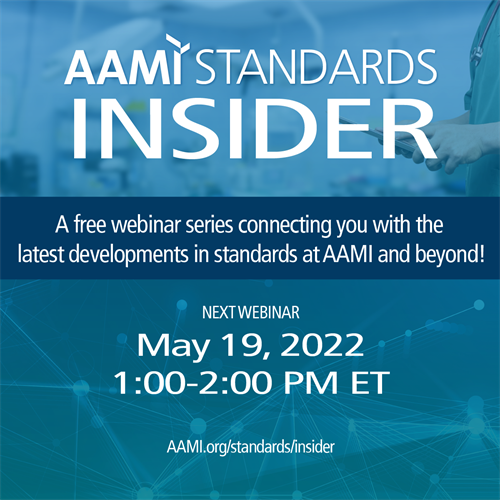 Upcoming Standards Insider Webinars:
Thursday, May 19
1:00PM - 2:00PM ET
During this one-hour free webinar Standards staff will introduce new AAMI Staff, comment on Committee/project highlights, present a slideshow demo on the new AAMI Committee Central, highlight updates on recently published documents and upcoming documents that will be published during the summer prior to the next Standards Insider in August 2022, highlight Committees recruiting for Co-chairs, and highlight upcoming notable conferences, e.g.: AAMI/FDA/BSI International Conference.
REGISTER NOW
Highlights and Insights from the AAMI Standards Program
Recorded on November 18, 2021
Presenters:
Amanda Benedict, Vice President, Standards, AAMI
Anna Leggett, Program Coordinator, Standards, AAMI
Cliff Bernier, Director, Standards, AAMI
Hear updates about the AAMI Committee Central Platform transition, AAMI standards committee activity—including a spotlight on CR510, and a look ahead into standards work to come in 2022.
Inaugural AAMI Insider Webinar
Recorded on Thursday, September 23, 2021
Presenters:
Amanda Benedict, Vice President, Standards, AAMI
This one-hour webinar provides the latest news and updates about AAMI's standards program and portfolio. Meet the AAMI Standards staff and learn more information about the migration of AAMI committees to the NEW AAMI Committee Central platform.