AAMI Membership
Our diverse community of more than 10,000 professionals is united by one important mission—the development, management, and use of safe and effective health technology.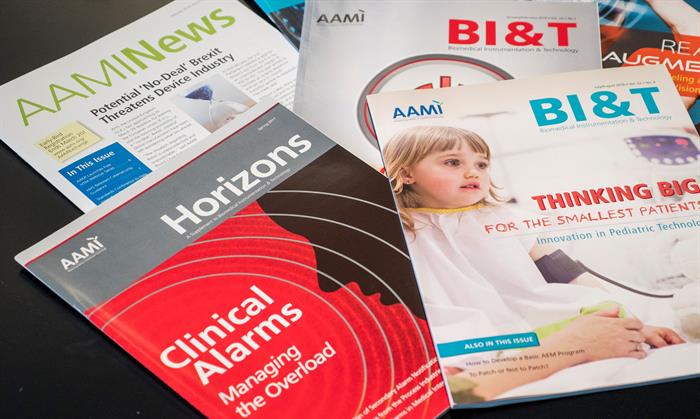 Be in the Know
Stay on top of hot topics and trends! AAMI membership includes access to a rich variety of online publications. Know what's important in the world of health technology, stay on top of standards development, and get insights that will help your organization and career.
News and Resources
Moving Health Technology Forward

AAMI and the AAMI Foundation offer a host of awards, scholarships, and research grants designed to recognize health technology's rising stars and most-accomplished innovators.
AAMI's mentorship program pairs early-career AAMI members and seasoned professionals for a year long mentoring relationship.
AAMI's BMET Apprenticeship offers formalized training in a real work environment to attract new professionals to the field.
Take the Next Step in Your Career

A new professional connection may be just one click away! AAMI's Career Center features an enhanced electronic job board that includes more postings, allows for more specialized searches, and brings more employers and professionals together. The Career Center provides 24-hour access to job openings in the healthcare technology field, attracting thousands of professionals every week.
Connect with Your Colleagues

AAMI Connect is the place where you can ask advice, share insights, and network with other AAMI members. A unique and friendly venue for healthcare technology professionals, educators, students, and others, AAMI Connect makes it easy to expand your circle of professional contacts and stay on top of what your peers are talking about.
Frequently Asked Questions
---
Have a question about AAMI membership that's not here? Just email membership@aami.org or call 1-800-332-2264.
How can I find out if my company is an AAMI member?
We can help you determine your company's membership status. Call AAMI at 1-800-332-2264, or email
membership@aami.org
.
I forgot or want to change my login to the AAMI website. How can I get a new username and/or password?
No problem. We have several ways to help you login. Reset your login or password by clicking on
this link
. Call us at 1-800-332-2264 or email
membership@aami.org
.
Where can I find my receipts and invoices?
Make sure you are logged into the website. Now hover over "Account" and select "My Account" to view your profile page. Select "Invoices and Receipts" in the left navigation bar, and then "All Orders" to view, print and/or download your receipts and invoices. You can also contact
membership@aami.org
for additional assistance.
How do I renew my membership?
Please send your membership dues payment to AAMI 901 N. Glebe Road, Suite 300 Arlington, VA 22203-1633 or call 1-800-332-2264 to pay over the phone.
I want to join a standards committee. Does my company need to be a member or may I join as an individual?
If an individual is employed part-or full-time by a company or consulting firm working in the medical device or health technology field and wants to participate in AAMI's standards development program, the company or consulting firm must pay a committee fee. If the company or consulting firm joins AAMI as a corporate member, the committee fee is waived. If an individual is a clinician and wants to participate in AAMI's standards development program, individual AAMI membership is not required. For more information about this, please contact John Sloan, VP of Membership, at
jsloan@aami.org
.
How do I update my organization's membership roster?
Access to AAMI's roster tool is only available to the organization's primary representative. If you are the primary rep, make sure you are logged in and navigate to your profile page. Select the "Organizational Roster" tab in the left navigation bar. From there, you have 24/7 access to make changes to your employee and rep roster. You can
view this short video
that walks you through each function.