AAMI Names Senior Vice President of Education
February 4, 2019
Contact: Gavin Stern, gstern@aami.org, 1-703-647-2781

AAMI has selected a business leader with 20 years of leadership experience in learning and organizational effectiveness as its new senior vice president of education.
Today, Robert Burro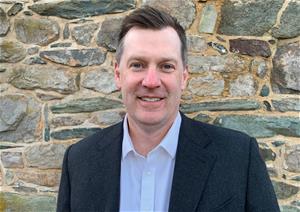 ughs, founder of the Northern Virginia-based learning services company Trainingwerx, takes the reins of AAMI's educational portfolio, which includes industry training courses for medical device manufacturers, certifications for healthcare technology management and sterilization professionals, and the AAMI Exchange, the association's growing and revamped annual conference.
"It is a very exciting time to join the AAMI team," Burroughs said. "The next decade will bring both tremendous opportunity and tremendous disruption to the health technology industry, and AAMI can play a critical role in driving positive healthcare technology outcomes. I'm thrilled to help support such an important mission."
AAMI President and CEO Rob Jensen spoke highly of Burroughs' experience and vision, which separated him from a field of nearly 200 applicants.
"Robert brings broad and deep experience in professional education programs, learning technologies, and e-learning/media production, as well as proficiency in management, strategic planning, and sales," Jensen said. "He is knowledgeable, engaging, and eager to learn more about AAMI's mission, members, and current education offerings. We are excited to welcome him to the team."
Burroughs earned dual bachelor's degrees in economics and art/art history from Rice University and studied motion picture and television production at the University of Southern California's Graduate School of Cinema-Television. However, he has spent the past two decades finding new ways to drive individual and organizational performance. Prior to starting his own learning services company, Burroughs was vice president at Learnsomething, a Xerox Company, where he was responsible for the learning management systems business unit; was a principal and co-founder of Genesys Solutions, a boutique consulting firm focused on strategic execution; and director of client services for the full-service eLearning company Quisic.
Burroughs says he is looking forward to "getting to know and work with so many talented professionals, both at AAMI and in our larger community of stakeholders" and plans to spend his first few months doing what he has promoted throughout his career―learning.
"There are so many good things happening at AAMI that my first task will simply be to wrap my head around them all," Burroughs said. "That will mean spending lots of time with staff from across the AAMI organization and getting out into the field with our members. I can't wait to hear from them what opportunities they see for AAMI to have a greater impact."
AAMI (www.aami.org) is a nonprofit organization founded in 1967. It is a diverse community of more than 9,000 healthcare technology professionals united by one important mission—supporting the healthcare community in the development, management, and use of safe and effective health technology. AAMI is the primary source of consensus standards, both national and international, for the medical device industry, as well as practical information, support, and guidance for health technology and sterilization professionals.