A Message from AAMI President Rob Jensen
June 6, 2019
Contact: Gavin Stern, gstern@aami.org, 1-703-647-2781

Dear Friend,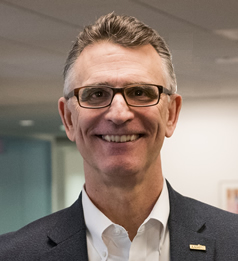 On behalf of the AAMI staff and Board of Directors, welcome to the first AAMI Exchange!
The Exchange is the name of our reimagined annual conference and expo. Why do we call it the Exchange? Because the next four days are about exchanging ideas, leading practices, solutions, creativity, energy, and innovation among the broad spectrum of professionals working in health technology. The Exchange is the place to be to empower yourself as a professional.
We've updated our conference in a number of ways, starting with our education sessions. We're offering eight specific learning tracks, including data analytics, global trends, and cybersecurity. As always, healthcare technology management remains a fundamental focus of our annual gathering.
The Exchange offers a more interactive experience for attendees. The AAMI Xcelerator, for example, features our first innovation competition, a result of our partnership with BioEnterprise at the Global Center for Health Innovation.
The IoT Xperience in the Expo helps us to envision what the Internet of Things can bring us on the healthcare front, looking at all the opportunities and risks associated with connected medical devices. The Virtual Reality/Augmented Reality (VR/AR) Theater, also new, will provide you with another high-tech glimpse of the future.
Just as I know the technology on the Expo floor will dazzle you, I'm confident our Main Stage speakers will inspire you. Best-selling author and innovation strategist Nicholas Webb is poised to paint us an exciting picture of how healthcare delivery is changing. Surgeon Toby Cosgrove, the former CEO and president of the Cleveland Clinic and an executive healthcare advisor for Google Cloud, will offer his own take on the healthcare framework of tomorrow. And we will get timely updates about the regulatory and accrediting worlds from Herman McKenzie, The Joint Commission's acting director of engineering.
I expect there will be more sessions you will want to attend than time allows. But I hope you make time to connect with your peers and make new friends at our many receptions and social events. Some of the best learning occurs in those one-on-one conversations.
My welcome to you would be incomplete without a sincere note of thanks. Thank you for investing your time with us. Thank you for all you do to support safe and effective health technology. I also want to voice my appreciation to our Exchange sponsors, whose generous support has helped to bring this event to life.
Like you, I'll be making the most of the next four days, learning and forging new friendships. If you see me or any of the AAMI staff, please say hello. Your feedback helps us to keep growing and keep improving.
Enjoy the Exchange experience!


AAMI (www.aami.org) is a nonprofit organization founded in 1967. It is a diverse community of more than 9,000 healthcare technology professionals united by one important mission—supporting the healthcare community in the development, management, and use of safe and effective health technology. AAMI is the primary source of consensus standards, both national and international, for the medical device industry, as well as practical information, support, and guidance for health technology and sterilization professionals.