Where Are They Now?
Catching up with previous Miller Scholarship recipients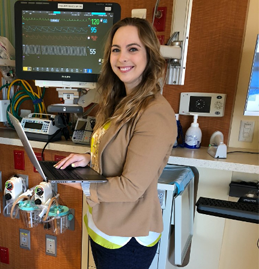 Samantha Herold
2014 Scholarship Winner
Clinical Systems Engineer, Yale-New Haven Health System
What the scholarship means to her: The importance of the AAMI Foundation Scholarship in my life has been immeasurable. As a female in a male-dominated industry, I often felt like a small fish in a big pond. The award validated and celebrated the work I was doing as an intern and provided the foundation with a much more confident young engineer.

How she's making an impact: I had become a clinical engineer to help people, but was having a hard time understanding and feeling my impact. I know now that while I may not always see the impact my work has on patients or clinicians, I know it does make a difference and that gives me the drive to be the best clinical engineer I can be.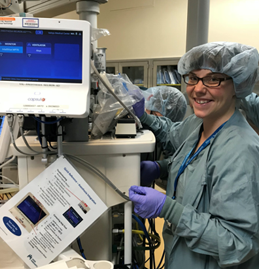 Sarah Brockway
2016 Scholarship Winner
Clinical Engineer at Massachusetts General Hospital in Boston, MA
What fires her up about HTM: Every single day is different and I am always learning something new. The HTM community also feels like a family, because from what I've seen, we all share the same excitement and passion for the field, bond over that, and learn from each other.

How she's making an impact: I love the feedback I receive from clinicians and being able to personally see the impact of my work on patient care. Being able to help make the lives of clinicians easier and therefore help make the patient experience better is what motivates me at work every single day.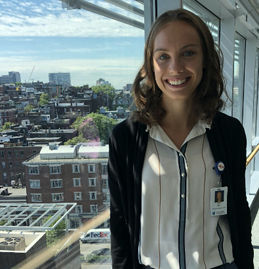 Alexis Henry
2018 Scholarship Winner
Clinical Engineer, Massachusetts General Hospital
What the scholarship meant to her: The scholarship motivated me. I knew I wanted to stay in the HTM field. I was honored to be awarded the scholarship amongst a very talented group of people.

How she's making an impact: I love being in HTM management because I am able to see how my work improves patient safety and healthcare. Additionally, it is always evolving and improving. I am able to work with state-of-the-art equipment, as well as ancient equipment, and it is so cool to use my biomedical engineering skills to make both as effective as possible.
Avinash Konkani, PhD., MS., BE., AHFP
Biomedical Engineer, Outreach and Partnerships Team 2
Medical Product Safety Network (MedSun)
What the scholarship meant to him: The AAMI Scholarship helped me to gain HTM community's recognition and motivated me to achieve higher goals in the HTM career. The scholarship motivated me to volunteer on different committees of AAMI, thus my professional engagement with the HTM community and leaders has strengthened.

Why he recommends HTM: HTM is very unique, and it provides the opportunity to work with cutting-edge technology as well as the satisfaction of helping someone to get better and go back to their normal life safely.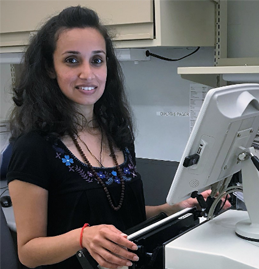 Nehal Kapadia
2017 Scholarship Winner
Clinical Engineer at Massachusetts General Hospital
What fires her up about HTM: Establishing a rapport with clinical personnel and providing engineering support to them. There is a positive feeling once the connection is made and I begin to understand their needs.

Why she recommends HTM: There is always something new to look forward to – solving engineering problems, meeting clinical needs – all contributing towards improved global healthcare. There are various settings and opportunities, from assisting low-middle income countries to meet their healthcare needs, to implementing and managing advanced technology in a developed country.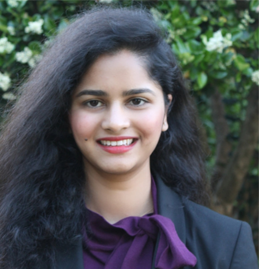 Kahkashan Afrin
2018 Scholarship Winner
Associate, McKinsey & Company
What fires her up about HTM: With current technological advancements, healthcare is a critical aspect that can be significantly improved by better engineering. I am very fortunate to integrate healthcare informatics and point-of-care device development – two areas that I am very passionate about.

Why she recommends HTM: Healthcare management is a rapidly growing field and provides tremendous opportunities for employment and research. Other than the monetary perks, there will always be a satisfaction that your work is positively impacting one of the most important aspects of someone's life.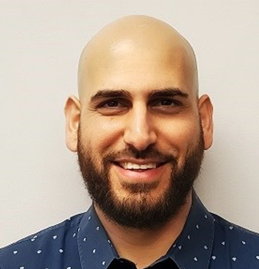 Neil Zarghami
2015 Scholarship Winner
Electronics Engineer at a Los Angeles based Medical Imaging Company
What fires her up about HTM: The greatest moment is seeing the patients getting what they need efficiently because our software, equipment, and network setups are intelligently optimized. Usually the patients have enough to worry about so what we do for a living takes a little bit of their anxiety away.

Why he recommends HTM: This is an excellent career that's ever expanding and has so many niche positions interwoven within its markets. If you have a passion for tech, then there's places for you.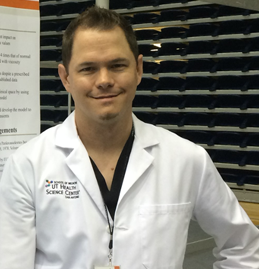 Chris Moreau
2018 Scholarship Winner
Senior Research Coordinator, UT Health San Antonio
What the scholarship meant to him: I've been involved in AAMI in some way for more than 20 years, whether as a professional member, student, mentor, or meeting attendee. AAMI was the first professional society I joined and I couldn't be more proud to receive this award from the group that helped mold the foundation of my career.

A moment that made him glad he chose HTM: The moment a patient's family thanked me for helping install a medical device in the ICU that made an immediate improvement in the patient's vital signs and ultimately helped them transition out of the ICU and back home.
Shane Glazebrook
2010 Scholarship Winner
Advanced Field Service Engineer for "in-house" Imaging Support, BaylorScott&White Health
What the scholarship meant to him: As a single parent attending school full time, budgeting for rent, food, and gasoline was a challenge. The scholarship came at just the right time. It allowed me to move from Waco to Dallas for an internship at Baylor Health (now BaylorScott&White Health) which, in turn, resulted in a job offer.

Why he recommends HTM: HTM is an ever-growing field with job opportunities throughout the country and much of the world. Nearly every county in the country has some form of hospital or clinic that depends on technicians and service engineers to keep hospital equipment maintained and in compliance.
Victor Makwinja
2016 Scholarship Winner
Technical Director, Likana Healthcare Consulting
What the scholarship meant to him: The fact that I was the first non-USA citizen to be given that scholarship will remain the source of joy and pride the rest of my life.

How he's making an impact: I was approached by a nurse from one of the district hospitals in my country, to assist in repairing infant warmers, incubators and oxygen concentrators belonging to the maternity ward. These pieces of equipment had been nonfunctional for over five years. I finally got most of them back to working status.
With your support, we can help advance the professional development of healthcare technology professionals and the safety of health technology around the world.