HTM Professionals Provide Crucial FDA Feedback Using MedSun
October 8, 2020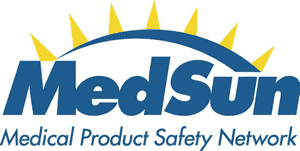 Jennifer Peters
Thanks to their role using, managing, and repairing medical devices, healthcare technology management (HTM) professionals are crucial providers of voluntary feedback to the FDA about the health technology they're using every day. In a Sept. 22 HTM Live! webinar, FDA representatives described how they can use the agency's Medical Product Safety Network (MedSun) to do just that.
Through case examples shared during the FDA/AAMI webinar regarding MedSun's use, "you can see a range of ways HTM professionals can share their concerns with their peers through MedSun and how these concerns can be very impactful on some critical life-support instruments that hospitals use on a day-to-day basis," said Avinash Konkani, a biomedical engineer with MedSun and a member of AAMI's BI&T Editorial Board.

MedSun currently includes partnerships with more than 300 hospitals in almost all 50 states in the U.S. and more than 4,000 individual hospital staff members. Through the partnership, hospitals, the FDA and manufacturers can collaborate to ensure the best possible patient care when using medical devices of all kinds.
"We're always learning new things about how medical devices are performing once they're out there in the real world being used in real hospitals by real clinical teams," said Julie Morabito, supervisory biomedical engineer at the FDA's Center for Devices and Radiological Health (CDRH). "We're constantly evaluating and reevaluating the balance of the benefits offered by a device versus the risk that device poses to patient safety."
But this requires that HTMs act, which MedSun makes easy and efficient.
Reports from HTMs are important for a multitude of reasons. First, is that 47% of medical instruments are premarket exempt, such as basic tools like tongue depressors, swabs, and gauze. Another 43% are shown to be similar to an existing device before going to market. The remaining 10% require clinical trials for premarket approval, and those include high-risk devices and most implantable devices.
Mandatory reporting has long been the industry standard when it comes to serious injury or illness connected to the use of a medical device, both from hospitals and healthcare facilities using the devices as well as from the manufacturers of the devices. It's also required by U.S. law, under the Safe Medical Devices Act. But MedSun also allows—and indeed strongly encourages—voluntary reporting for less severe incidents, as well as for any information that could help the FDA and manufacturers improve the devices in question.
These voluntary reports can be provided when a device may have caused or contributed to minor harm to a patient or caregiver; when it has the potential to cause harm; or if the device has caused no harm but could be improved upon with further information from the HTM. These voluntary reports can include things like poor instructions or packaging, a device that was found to be damaged before being used, or difficulty utilizing the device despite it technically operating correctly.
The reports received by manufacturers and the FDA through MedSun are often the first signals of a problem with a device, "and may present the first opportunity for FDA and the manufacturer to work together to improve patient safety," according to Morabito.
For those reporting, voluntary reports are requested as soon as reasonably possible, while mandatory reports are expected on a strict timeline, with manufacturers having 30 calendar days to report incidents of harm, and user facilities having 10 work days after becoming aware a device was involved in causing harm (though those facilities are not expected to have completed their internal investigations before reporting and have the opportunity to update their reports through MedSun as more information becomes available to them).
"Because the collaboration [between the FDA, hospitals and manufacturers] relies on timely feedback and communication, we work together to improve patient safety across the country in a proactive way," Morabito said.
That's because once a report is filed through MedSun, an investigation and/or CAPA (corrective action/preventative action) can be initiated, leading to such things as changes to the device or manufacturing process to prevent further instances of harm; a device recall; a safety communication to other users to get more information or to better inform them of proper use and handling of the device; or a further postmarket study to get a deeper understanding of the device flaws and how they can be fixed to best serve future patients.
If you have additional questions about the MedSun program or would like to bring forward a medical device concern, email Julie Morabito at Julie.Morabito@fda.hhs.gov.