Winners of AAMI High School Essay Contest Share Moving Stories
June 15, 2020
This year's winners of AAMI's high school essay contest shared moving stories about the positive impact healthcare technology has had on their lives and the lives of their family.

Designed to help spread awareness about the healthcare technology management (HTM) field and to encourage students to consider pursuing it as a career, this year's contest drew about 100 submissions from students around the United States. AAMI's Technology Management Council (TMC) selected the three winners:
First place: Ashlin Pfeifer-Winborn
Second place: Morgan Reupke
Third place: Shiven Balaji
The winners received a total of $1,000 in awards: a $500 gift card for first place, $300 for second place, and $200 for third.

"Members of the TMC were very impressed with this year's submissions. The essays were thoughtful and moving—and covered many different types of healthcare technology and devices. AAMI staff will follow up with all students to encourage them to consider HTM as a career option," said Danielle McGeary, vice president of HTM at AAMI.

Here's a glimpse at the contest winners' thoughts on how healthcare technology has positively impacted their lives.

Ashlin Pfeifer-Winborn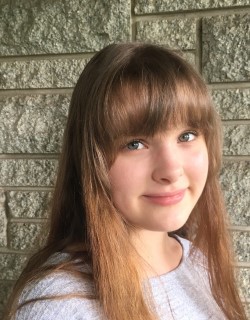 First-place winner Ashlin Pfeifer-Winborn, a rising junior at Susquehanna Township High School in Harrisburg, PA, shared a moving story about how health technology gave her family more time with her father, who was diagnosed with amyotrophic lateral sclerosis (ALS).

"Health technology helped my father live the most fulfilled life that he could with ALS and allowed my family and me to have more time with him," she wrote.

After a tracheostomy, the Tobii assistive communication device gave Pfeifer-Winborn's father the ability to speak in his own voice with his family. The device used her father's voice bank—a recorded sample of his speech—to read aloud in his voice messages he typed on a special keyboard with his eyes.

"Every night, my father made sure to say goodnight to my sister and me using the Tobii, often telling us jokes or things that made him proud of us," she shared. "Without his healthcare devices and technologies, he would not have been able to tell us he loved us for as long as he did."

Pfeifer-Winborn entered the essay competition because she finds medical science fascinating and because she had a personal experience with "the great benefits of healthcare technology while my dad was living with ALS. I thought this would be the perfect opportunity to share my experience."

After high school, she plans to study social sciences in college and ultimately "pursue a related career that has a positive impact on people."

Morgan Reupke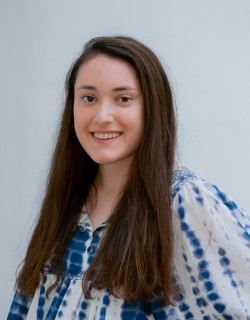 Second-place winner Morgan Reupke, a student at Spring Valley High School in Columbia, SC, described how healthcare technology improves life for her and others with Type 1 diabetes. "From advances in continuous glucose monitors to improvements in insulin pumps, healthcare technology is allowing people of all ages with diabetes to live healthier lives," she said.

Reupke has been using the Omnipod wireless insulin pump and the Dexcom G6 continuous glucose monitor (CGM) since the spring of 2019—a major upgrade to the finger sticks and portable glucose monitor she was using previously. In addition to helping her achieve an ideal A1C value of 7, Reupke said the new devices and technologies are more convenient. The Dexcom G6 CGM has a smartphone app and "acts more like a real pancreas by constantly communicating with the wireless insulin pump," she shared. "The app also has alarm notifications for high and low blood sugar levels so that action can be taken before a life-threatening incident occurs."

"I entered this contest because I am a Type 1 diabetic that uses technology to monitor and take care of my blood sugar levels and insulin delivery," said Reupke. "It is astonishing to see how medical technology has changed throughout the years. These advances have certainly had a positive effect on my everyday life."

This fall, Reupke plans to attend Clemson University and study environmental engineering. "My goal is to assist countries around the world with developing solutions for contaminated water supplies and sustainability concerns."

Shiven Balaji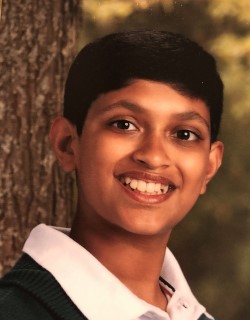 Third-place winner Shiven Balaji, a 7th-grade student at the Harker School in San Jose, CA, shared that dialysis technology gave him and his family several more years with his grandmother who was experiencing kidney failure. "Dialysis is a four-syllable word that changed the course of my life in 2010," said Balaji.

When Balaji was young, he lived in Singapore. He and his family often visited his paternal grandmother in India. He remembers those visits as being fun. However, the family visits became more tense when his grandmother developed vasculitis. Her immune system started to attack her blood vessels, which eventually caused her kidneys to fail. She was very sick.

"As my parents would later tell me, there was almost no hope for my grandmother," said Balaji. Peritoneal dialysis three times daily significantly prolonged his grandmother's life and gave Balaji the chance to get to know her. "She read me a variety of stories and taught me most of the Tamil that I know," he said.

"I entered this competition because I wanted to share my experience with technology with others and make a difference in any way I can," said Balaji. "Technology allows people to save others' lives every day."

Although he is not sure exactly what he will do for a living, Balaji is interested in pursuing a career in biology or medicine.

AAMI's high school essay contest is part of HTM Week festivities. For more information about HTM Week, visit www.aami.org/HTMWeek.