A Conversation with the 2020 BMET of the Year
May 19, 2020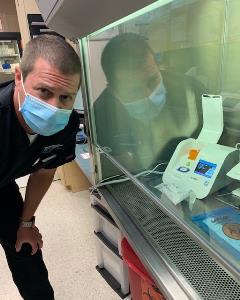 Congratulations to Nicholas Grecco, CBET, team lead at Baycare Health, Morton Plant North Bay Hospital in Trinity, FL, who is the AAMI and GE Healthcare BMET of the Year for 2020!

This award is given to a biomedical equipment technician (BMET) to recognize their dedication, achievement, and excellence in the healthcare technology management (HTM) field. Grecco received the award this year for his dedication to the profession and for his performance as an outstanding team member with an impressive work ethic.
Why did you decide to pursue a career in HTM?
I understood early in my career that technology would always evolve at a rapid pace, which fascinated me. My first career in technology involved repairing circuitry in medical devices. Employed with this vendor, I advanced rapidly and eventually transitioned into marketing and product management roles. After being laid off in 2008, I decided to get back into technology—what I first loved.
What do you enjoy most about your job?
I get a great deal of personal and professional satisfaction from positively impacting the care and wellbeing of our patients and guests. I am fortunate and humbled to have the opportunity to do this work.
What has been the biggest challenge you've faced on the job during the COVID-19 pandemic?
We live in a very different world now. I have always taken pride in the personal relationships I have built with team members, vendors, and patients. Now, with social distancing, I have had to adjust to a "new normal" with my professional interactions. Fortunately, my company has a plethora of technology that allows me to stay in touch just as effectively, albeit differently than before the COVID-19 pandemic.
Who has inspired you professionally?
A relative told me a long time ago that, whatever you do in life, you do your very best or don't do it at all. This is a motto I live by.
What's one piece of advice that you can offer HTM professionals just entering the field?
Never be afraid to ask questions. Find a mentor and learn everything you can from them. HTM is an amazing and ever-changing field. Have an open mind and continue to acclimate yourself to new and exciting products.
How do you see HTM changing in the next 10 years?
Networked devices and wireless technology continue to be incorporated into medical equipment. I see more devices connecting directly to patient medical records through secure WiFi. I also see more advances towards technology to reduce medical errors, alarm fatigue, and patient falls. The future will include more advanced innovation with tablet interfaces and smart devices such as Alexa and Google voice applications.
What's one thing about you that your colleagues would be surprised to learn?
I've been an artist since I was young. I love to draw, paint, draft, and sculpt. I have a relatively new hobby of building furniture.
How do you like to spend your time outside of work?
I love to spend time with my immediate and extended family. We vacation together and spend many weekends together enjoying the great outdoors.
What's your favorite summer activity?
I like any activity that involves being on or near the water. Swimming, fishing, and boating are at the top of my list.