Guide Shows HTM Departments How to Move 'Beyond the Basics'
June 2, 2016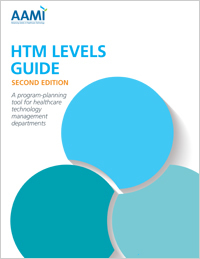 Healthcare technology management (HTM) departments should strive to provide added value to healthcare delivery organizations—moving beyond compliance with regulatory requirements to help blaze new trails for the effective and safe stewardship of medical devices and enhancing patient care in the process, according to the authors of an updated version of AAMI's HTM Levels Guide.
"Just doing the regulatory basics is one thing. That's important. But we've also found examples of HTM programs doing very innovative things that provide a lot more support to clinicians," said Matt Baretich, CPPS, president of Baretich Engineering and co-author of the updated guide. "We wanted to emphasize that the target for every agency or program is level two—established. You're not just meeting basic requirements—you're providing a lot more value to the organization."
The guide—which was developed based on feedback from clinical engineers, consultants, AAMI staff, AAMI's Technology Management Council, and others—provides guidance to help HTM departments progress through three levels, defined as:
Fundamental: Programs that provide a basic level of technology services and compliance with applicable standards and regulations. The authors describe the minimum level as suitable for new HTM programs and those in very small healthcare organizations.
Established: Programs that have moved beyond the basics to provide additional services, with a focus on cost-effectiveness. This is the level that all HTM programs should work to achieve, according to the authors.
Advanced: Programs that are on the leading edge, demonstrating the full range of potential for HTM contributions to patient care. While very few programs achieve this level of performance across the board, the authors believe that every HTM program can find opportu­nities for improvement at this level.
The first edition of the guide was released in 2014 and has been embraced by a number of HTM departments, according to Baretich.
"This has opened up people to what they could be doing, what might be good ideas to put on their performance improvement planning," Baretich said. "We see a lot of places using it for a conversation program in their agency or program: 'Have we accomplished these items? Where can we move ahead?' It's a food for thought item for discussion for people to think about where we can do better."
The second edition includes updated regulatory requirements, references, and an emphasis on continuous improvement beyond the basics. For example, a HTM department operating at the "fundamental" level would have some involvement in equipment planning. At the "established level," HTM is regularly involved, while the most "advanced" HTM department takes the lead in the equipment planning process.
"The HTM Levels Guide is easy to use, read, and makes it easy to make decisions on what to implement," said Patrick Bernat, director of HTM at AAMI. "Certainly, a manager or director of a department would use the guide for planning. But anybody in the field could read and understand it, to learn where the field is headed."
The other co-authors of the HTM Levels Guide are Frank Painter, CCE, adjunct professor of biomedical engineering at the University of Connecticut in Storrs, CT, and Ted Cohen, CCE, manager of clinical engineering at the UC Davis Medical Center in Sacramento, CA.
The second edition of the guide will be released at the AAMI 2016 Conference & Expo. Copies will be available in various locations, including the AAMI Store and the Career Center, Room 18, both of which will be in the Tampa Convention Center. Other career-planning and HTM-related resources also will be available at the conference.