February 1, 2020
Categories: AAMI News, Health Technology Management, HTM Professionals, Information Technology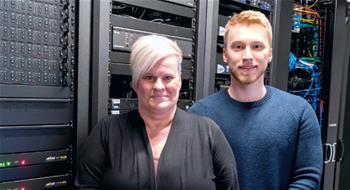 Members of the AAMI IT team include Rebecca Bowen, director of IT, and Weldon Perry, IT engineer.
An effective biomedical engineering department can often go unnoticed in a hospital—that is, unless something goes wrong. AAMI's information technology (IT) department is no different. The IT staff completed several major upgrades last year, with many more on the horizon for 2020.
High-Impact Improvements
One of the most visually striking technological upgrades was the AAMI Center for Excellence (ACE). The ACE, located at AAMI's headquarters in Arlington, VA, is now equipped with state-of-the-art audio, visual, and teleconferencing technologies. The conference room space was designed to host AAMI's standards meetings, industry training sessions, and events.
"Setting up the audio-visual integration in the ACE involved more than just installing or configuring hardware," said Rebecca Bowen, AAMI's IT director. "In essence, it's a turnkey operation from developing the architecture, managing the acquisition and source selection, and implementing the final system and performing acceptance testing for final production's release."
AAMI's IT department is currently working on a complete redesign of the AAMI website. Slated for deployment in the first half of 2020, the modernized website will make it easier for members to find the content they want and will offer a more customized experience depending on their interests.
Under the Hood Upgrades
Behind the scenes, the IT department is also planning to launch a new association management system (AMS) and a new e-commerce solution. The AMS will help AAMI staff to more effectively provide members with the services they want, while the new online store will present a more customer-friendly shopping experience.
Finally, the AAMI IT department is also working on a new standards delivery platform that will replace the Higher Logic Workspaces software currently in use. The platform will incorporate features and functionality needed by committee members and AAMI staff to streamline meeting planning and document sharing. ALG labs are ISO/IEC 17025:2017 certified and follow applicable guidelines from the FDA and industry groups for all validation testing.