'We Know What We're Doing!' an International Comparison of Device Maintenance Incidents
By: Brian Stallard
Categories: AAMI News, HTM Professionals, Medical Device Manufacturers
Preliminary results from a study conducted by health technology professionals across the globe show that less than 1.5% of all medical device related issues reported each year can be attributed to medical device maintenance or service.
"My assumption is that this is because we [the HTM community] know what we're doing, and we're doing it in a consistent, systematic way!" said Jean Ngoie, Head of Instrumentation and Clinical Engineering at NHS Tayside, Scotland, in a Monday education session during AAMI eXchange REWIRED.
For the session, "International Comparison of Maintenance-Related Medical Equipment Incidents," Ngoie was joined by fellow presenters Binseng Wang (VP, Program, Management at Sodexo CTM) and Frank Rothe (Head of Service Management Europe, Vamed Management und Service GmbH in Germany).
The researchers specifically looked at records of medical equipment related incidents in Germany, Canada, Scotland, and the United States. Those countries keep relatively thorough data on these events which are accessible via public record or a Freedom of Information Act request. Records ranged between the early 2000s to 2020, with the United States having assorted records (including those from the FDA) starting as early as 1977.
Of the four countries, Canada and Scotland appear to have particularly effective maintenance programs, according to the researchers. With a grand total of 355,972 health incidents reported to Health Canada within the last decade, the analysis results showed that a mere 0.004% were attributed to poor device maintenance or servicing.
Ultimately, the researchers determined that of all device-related incidents resulting in death, injury, potential for injury, or even incidents without any adverse consequences for the patient's health, only 1.6% were related to maintenance or servicing in Canada. Similarly, only 2% of the medical device related incidents reported in Scotland over the last five years can be attributed to poor maintenance or servicing.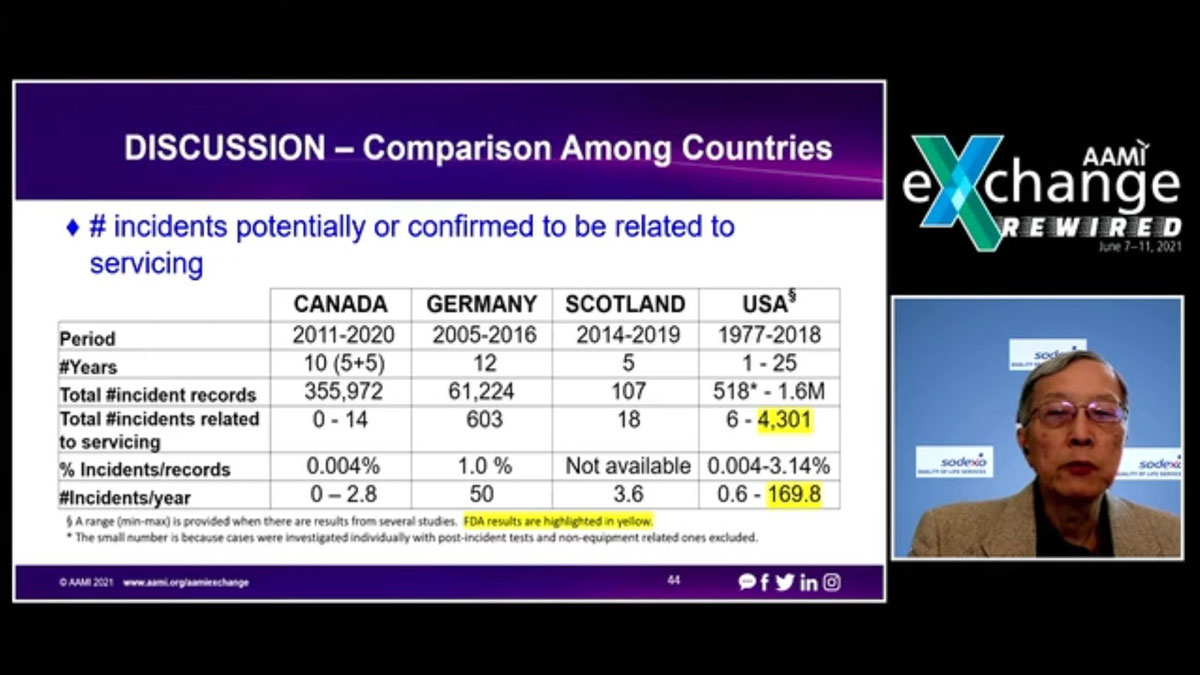 Binseng Wang, Sodexo CTM, presents preliminary results from a four-country data analysis

However, it's worth noting that Scotland's data has to be obtained through a request with the Scottish government and did not show how these incident numbers compared to all reported health incidents over those same five years.

Germany showed a maintenance-related incident rate of only 1% among all reported incidents, according to data from the German Federal Institute for Drugs and Medical Devices (BfArM).
Perhaps most interesting of all is that the number of incidents reportedly related to device maintenance in the United States may range between around 18 and 172 incidents each year, added Wang, who attributed the result to a discrepancy between FDA data and those reported by The Joint Commission. This placed the U.S. in a gray area, either at the same impressive 0.004% rate as Canada boasts or a more humbling 3% rate.
"The differences in how countries and organizations report incidents, collect data, etcetera, all can influence these results," Wang added, "but the important take away from these results is that the number of incidents per year in these countries is very, very small."
Wang compared the healthcare device maintenance numbers to those touted by airlines, with their comprehensive alternative maintenance programs to limit incidents.
"At this time, we don't see a need for additional regulations for device services," he concluded. "We are really doing a very good job!"