VA Shares Improvement Benchmarks for HTM Success
By: Brian Stallard
June 10, 2021
Categories: AAMI News, HTM Professionals, Medical Device Manufacturers
What does it take to transform a good health technology management team into a great one? According to the U.S. Department of Veterans Affairs (VA), it's easy once you know how.
In a recent session during AAMI eXchange REWIRED, healthcare technology management (HTM) leaders from the VA shared proven strategies designed to positively impact HTM benchmarks such as work order turnaround time, PM completion, training, and employee productivity.
Senior biomedical engineer Rabeh Hijazi, who presented during the session, was quick to admit that work order turnaround times used to be embarrassingly long at the Detroit VA Medical Center (VAMC) when he first joined the HTM team in 2013.
"The VAMC had an average work order turnaround time of 17 days," he said, "and if that sounds excessive… it is."
For comparison, the national metric for HTM work order turnarounds is only one week.
After measuring various aspects of the VAMC's work order process and analyzing the resulting data, Hijazi was able to identify a number of fault factors that can hobble the efficiency of an HTM department. Specifically, he found that the Detroit department suffered from limited part availability and training opportunities. Alarmingly, the staff was largely unaware of their own repair time metrics.
Hijazi also discovered that some technicians were keeping repair parts at their individual desks. While a seemingly harmless habit, this was making it difficult to keep track of part availability and may be a lesser-known problem that can disrupt inventory planning.
Hijazi's first priority was to address this parts inventory problem. Aside from making a new policy that required parts to be kept and catalogued in a communal storage area, the Detroit team reviewed what their most common repairs were to better inform part orders. The VAMC also took on interns to help barcode and organize parts.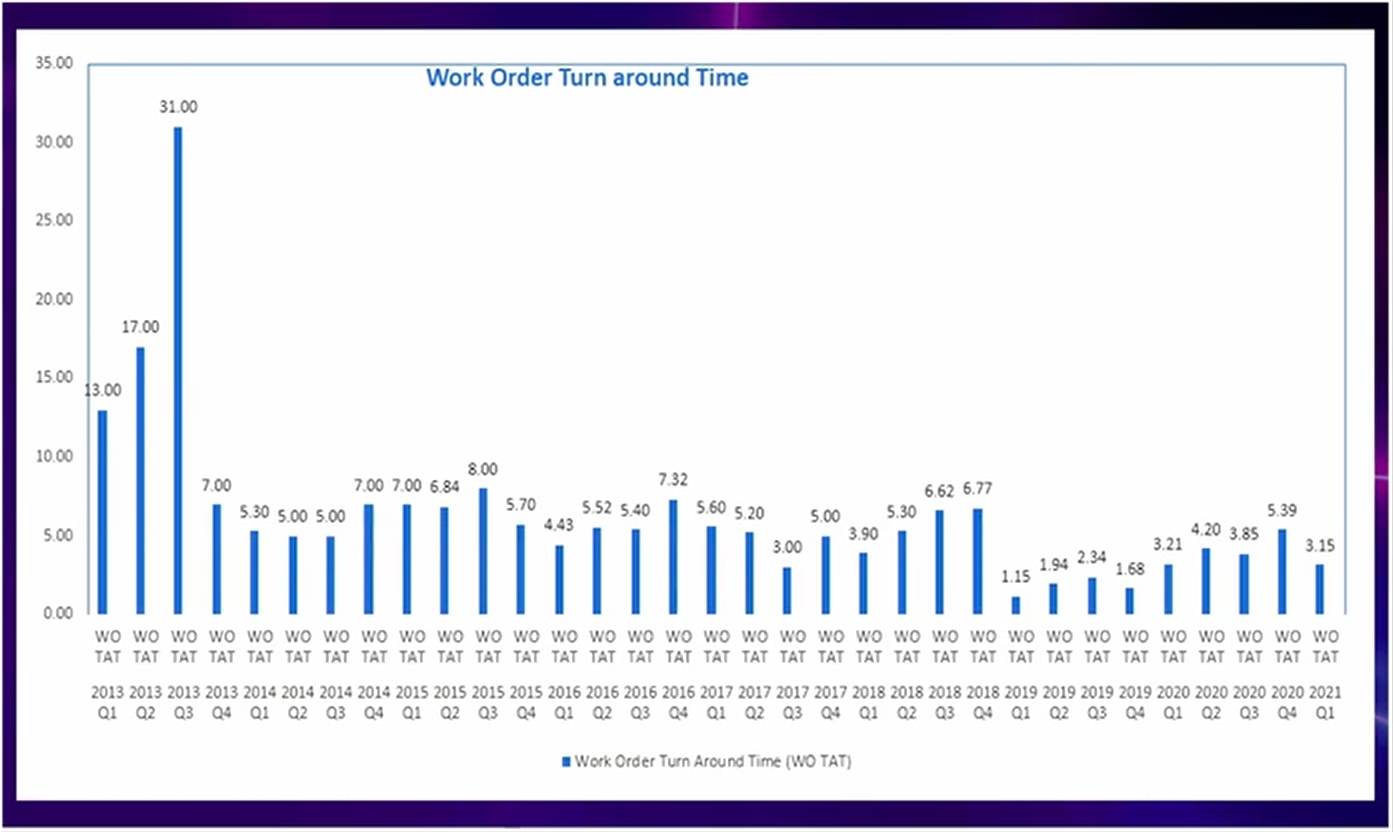 Work order TAT (in days) was drastically reduced after VAMC implemented new policies and processes.

As for training, Hijazi and his colleagues learned to take advantage of moments when purchasing new products to negotiate discounted training classes with vendors.
"We also started pairing up staff based on skill level or specialty," he said. "Having only one person familiar with a certain task or department can become a major problem when they're on leave."
Paired training is a tactic that Emily Sizemore, a VA biomedical engineer based in the Greater Los Angeles (GLA) area, is very familiar with. She noted that the VA now encourages departments to set a goal of 20 training hours per employee every year, recognizing continuous education as an important HTM benchmark. However, she also noted that it can be understandably difficult for a department to consistently reach the 20 hour goal.
"One great strategy is to simply increase the frequency of training opportunities," Sizemore said.
Similarly to VAMC's strategy, Sizemore's GLA team have started paring technicians together for cross-training, helping to diversify skillsets. Holding weekly presentations on education topics hosted by a rotating roster of GLA staff was another strategy for increasing training hours while simultaneously helping VA employees become aware of what skills they may lack.
According to Hijazi, these HTM benchmarks are not independent of one another. Thanks to the VA training strategies, a focus on improved inventory, and greater awareness among employees of their own capabilities, the VAMC was able to drastically improve productivity. By 2020, repair turnaround time had dropped to an average of only three days.
The presenters urged other struggling HTM departments to apply their current benchmarks and strategies to other difficult situations. And while one size may not fit all, they said, assessing one's department for strengths and weaknesses can only help serve the ultimate goal of an informed and productive department.