Using the Influencer Change Model for Alarm Management
March 1, 2020
Categories: AAMI News, Clinical, Health Technology Management, HTM Professionals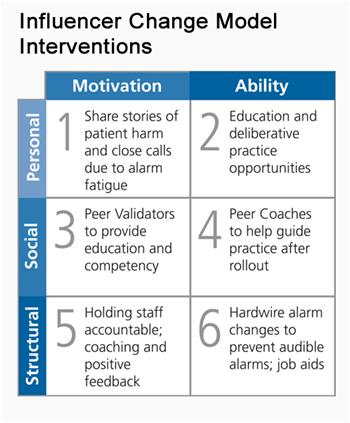 Karen (Peters) Fotino and Shiela Shields, both clinical practice specialists at Winchester Hospital in Winchester, MA, used the "influencer change model" to improve cardiac alarm management practices at their institution. According to their report, which was published in the Spring 2017 issue of AAMI's Horizons journal supplement, they achieved an 80% decrease in nonactionable cardiac alarms after two months of applying the influencer change framework (as seen in the figure on the right) to their improvement initiative.
Since 2017, the team has sustained the changes achieved during their improvement initiative. Their goal continues to be that all alarms are actionable and to minimize nuisance alarms while maintaining patient safety.
The influencer change framework is a model for achieving a behavioral change by altering six sources of influence:
Personal motivation: Does the individual want to engage in this behavior?
Personal ability: Does the individual have the knowledge and skills to execute this behavior?
Social motivation: Are people encouraging the individual to achieve this behavior?
Social ability: Are people providing the tools to enable this behavior?
Structural motivation: Are rewards being used to encourage this behavior?
Structural ability: Does the environment provide materials to accomplish this behavior?