Taiwan FDA Discusses Cardiac Implant Standards
February 1, 2020
Categories: AAMI News, Government, Medical Device Manufacturers, Medical Device Manufacturing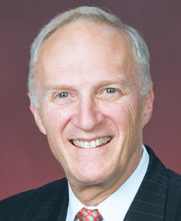 The Taiwan Food and Drug Administration (TFDA) held a meeting in November at its headquarters in Taipei with Dr. Jeffrey Borer, a world-renowned cardiologist, member of the AAMI Standards Board, and chair of ISO/TC 150/SC 2, Cardiovascular implants and extracorporeal systems, to discuss international standards for cardiovascular implants and the U.S. Food and Drug Administration (FDA)'s role in the standards development process.
The TFDA, much like the U.S. FDA, reviews all medical device registration applications, enforces quality system requirements, and monitors the safety records of medical devices sold in Taiwan. The TFDA modeled its classification scheme for determining regulatory pathways on the U.S. FDA's Class I, II, and III system.
The audience included more than 70 TFDA medical device reviewers. Borer's presentation covered international standards on cardiovascular implants, including an overview of the international standards ISO 5840-1:2015, Cardiovascular implants—Cardiac valve prostheses—Part 1: General requirements, and ISO 5910:2018, Cardiovascular implants and extracorporeal systems—Cardiac valve repair devices.
Attendees were eager to know about the structure and organization of ISO standards committees and the history, purpose, and revisions under consideration for international cardiovascular implant standards, Borer said.
"I discussed with them my 25 years of experience as a member of the cardiac devices advisory committee at the U.S. FDA, and the similarities and differences between ISO processes and FDA processes," Borer said. "Based on my discussions with TFDA employees, I think they may be working on modifying their approach to producing cardiovascular standards. They were very interested in hearing about how these documents are produced elsewhere in the world."