Study: Physical Therapy App Rivals In-Person Exercise Corrections
By: Fran Kritz
November 3, 2021
Categories: AAMI News, Medical Device Manufacturers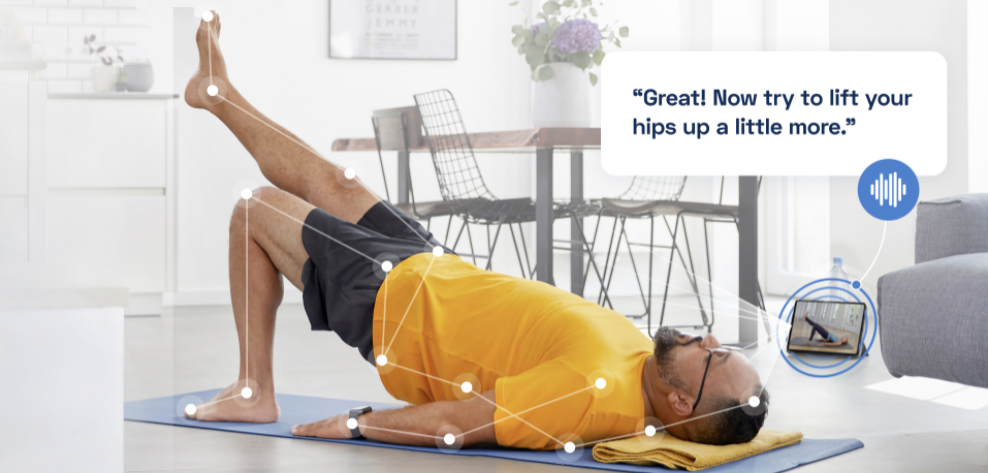 Credit: Kaia Health

A recent study published in the Journal of Medical Internet Research found that a health app was as effective as a physical therapist in suggesting exercise corrections for people undergoing physical therapy.
In the study, 24 patients with osteoarthritis of the knee or hip did a series of exercises while being simultaneously evaluated by both computer vision technology and physical therapists. The results showed that physical therapists agreed as much with the exercise corrections suggested by the app as they did with each other's exercise corrections.
The Kaia Health app, which uses computer vision technology, is able to provide real time feedback by tracking the patient's exercise steps through the user's smartphone camera.
According to Kaia Health, which funded the study, continuous exercise corrections to improve form are important to help ensure safety and effectiveness and to give patients confidence in their movements.
"The technology requires no additional hardware or sensors and instead leverages the camera on users' own mobile devices," said Kaia Health chief revenue officer CJ Mark, in a statement.
The technology is not a replacement for PT when in-person care is necessary, according to Justin Yang, MD, chief medical officer for Kaia Health.
"The Kaia Health app and its computer vision capability facilitates provider integration, complements brick-and-mortar care pathways, and augments the traditional [musculoskeletal physical therapy] care experience," Yang said in a statement. "This has great potential to save time and money while enhancing access to care, equality of care, and consistency of care. These are distinct benefits that can lead to better adherence and improved outcomes."