Step into the 'AAMI Alligator Tank' at AAMI eXchange REWIRED
By: Jennifer Peters
May 26, 2021
Categories: AAMI News, HTM Professionals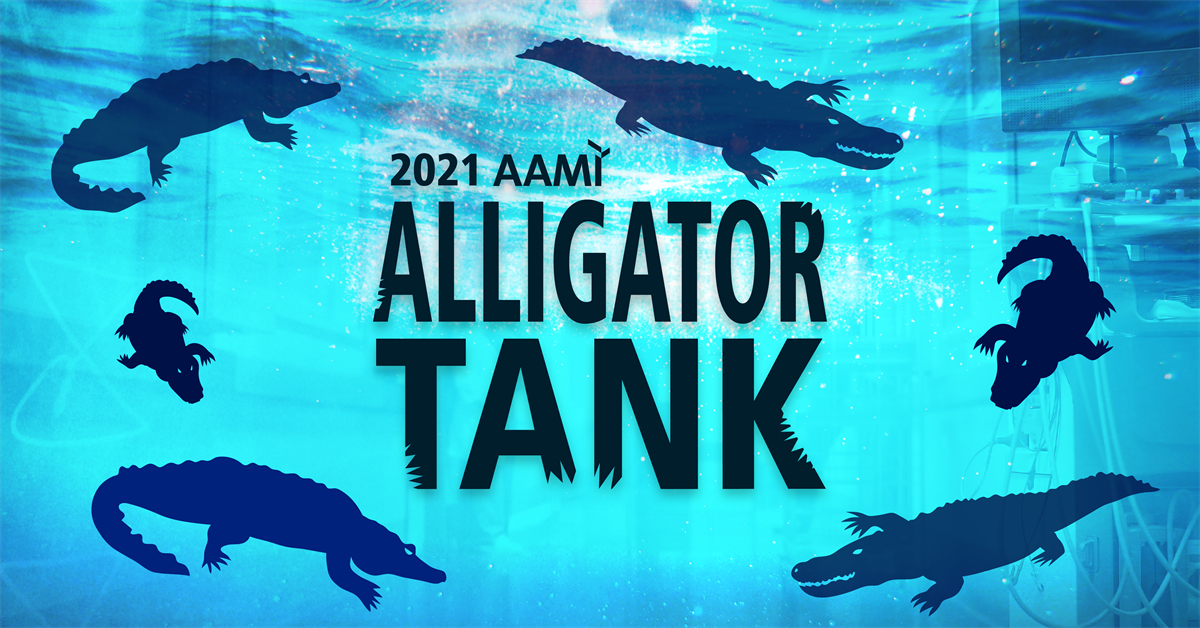 Every day, people working in health technology fields cook up new ideas to take their work to the next level. But how can those ideas become a reality?

This year at AAMI eXchange REWIRED (online from June 7-11), don't miss the AAMI Alligator Tank, a competition inspired by ABC's "Shark Tank" concept where innovative ideas are pitched to AAMI's tank of esteemed "gators." The stakes are high—AAMI just launched a national BMET apprenticeship program based on a pitch from a previous competition.
In this year's Alligator Tank, noon to 1pm ET on June 8, three brave innovators will dive headfirst into the swamp to pitch their projects. All will enter the tank with ways to use new technology to broaden the healthcare technology management (HTM) field.
"Will their ideas forever shape the face of health technology? Or will they be torn apart like gator bait in a swamp?" says host Gavin Stern, AAMI's editor in chief and resident Florida Man.
Meet the Gators
During the competition, any of the Gators can "make an offer" to invest time in the project, as well as to provide mentorship. Together, the Gators bring more than 80 years of experience, so they know what it takes to swim in the deep waters of health technology.
| | |
| --- | --- |
| | Jennifer DeFrancesco, associate director at the Dayton VA medical center in Ohio and a member of AAMI's Technology Management Council. |
| | Larry Hertzler, vice president of engineering and operations at Franciscan Health and a member of the AAMI Healthcare Technology Leadership Committee. |
| | David Francoeur, senior vice president of marketing and sales, Tech Knowledge Associates, and a member of the AAMI Board of Directors. |

If anyone knows what it takes to make it in the Tank, it's these Gators!

What Will the Gators Be Chomping Into?
The first to dive in will be James Linton, an HTM professor at St. Clair College in Ontario, Canada, whose idea marries virtual reality with a gamified approach to learning about basic healthcare devices. With Linton's proposed app, students at the start of their HTM journey would be able to learn some of the basic tools of the trade via VR. This approach allows students from different backgrounds, regions, and physical abilities to be exposed to the biomed career path. That means not only better training for future HTM pros, but a more diverse HTM field.
Wading into the tank next will be Nathan Lynch, the biomedical cybersecurity advisor at Kaiser Permanente. Lynch enters the Alligator Tank with some hot-topic tech: blockchain. But it's not crypto that Lynch is pitching! Lynch wants the Gators to back his plan to create a blockchain that would allow hospitals and third-party healthcare providers to share information about the medical devices they use. Through blockchain's encryption, HTM professionals could share their experience with a wide range of medical instruments and get feedback from colleagues down the hall or around the world, all without worrying about interference from the device providers or creators.
"It's a pretty sad reality when you're able to get more information on a used automobile than this life-saving equipment that you might be using on a patient," Lynch says.
The final diver is Ian Contreras, a clinical engineering student from the University of Connecticut, who wants to help get Gen Z (those currently under the age of 24) into the HTM workforce, noting that it's not easy for the aged Gators to get future Gators into the swamp when the youngest are "elder millennials."
Make sure to attend the AAMI Alligator Tank at AAMI eXchange REWIRED!