Soft Skills are Essential for HTM Trainees
February 1, 2020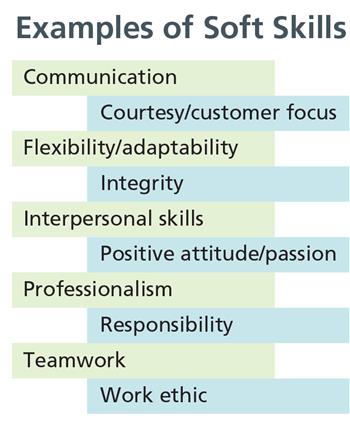 Advances in technology and the growing integration of medical equipment with information technology are changing the skill sets necessary for healthcare technology management (HTM) professionals to perform their jobs. As the field rapidly evolves on a technical level, HTM professionals also are expected to communicate and address the needs of individuals outside their departments—from patients, to vendors, to hospital administrators.
HTM's expanding reach into other departments and disciplines brings with it a growing need for soft skills training. Unlike hard skills, which are specific, measurable qualities and abilities, soft skills refer to behaviors for effective and friendly interactions with other people.
HTM: A Customer-Facing Profession
People who consider careers in HTM are typically problem solvers; HTM training programs reinforce this mindset by fostering a strong sense of critical thinking and linear troubleshooting. Although these programs prepare students to perform the complex mechanical tasks they will face every day, "the curricula don't always include enough instruction in the interpersonal skills students will need to communicate effectively with customers," said Eric Aring, clinical systems engineer at Stanford Children's Health in Palo Alto, CA. "This is unfortunate because we are now truly a customer-facing profession."
John Noblitt, director of the Caldwell Community College and Technical Institute in Hudson, NC, has instructed healthcare technology students for nearly 30 years. Fortunately for his students, Noblitt is a strong proponent of soft skills training and the biomedical equipment technician (BMET) education program he directs includes lectures on customer management and public speaking, as well as cooperative education and internship opportunities.
Noblitt tells his students that they need to study and learn the skills required for certification; however, grades alone will not define their worth as BMETs.
"In addition to technical know-how, I tell my students they need to understand their customers' psychology," said Noblitt. "Customers only call when something is going wrong and they are stressed out. Before you fix the equipment, you need to 'fix' the customer."
Joe Deater, adjunct instructor at Northwestern Michigan College and a BMET III at Munson Healthcare in Traverse City, MI, also believes that soft skills training is integral to a technician's success. Formal soft skills instruction was not something he had the opportunity to experience when he entered the HTM field two decades ago. Instead, he said he learned about teamwork and communication during his time with the U.S. Air Force and picked up interpersonal skills by generally being a sociable, outgoing person.
Deater recently petitioned to have soft skills training added to Northwestern Michigan's Biomedical Engineering Technologies Program, which is part of the college's Engineering Technology Program. Now, his students are required to complete courses in technical writing, professional communication, and critical thinking in order to earn their degree.
External Soft Skills Resources
If your training program does not offer classes in soft skills, there are external sources for instruction, such as LinkedIn Learning videos and seminars sponsored by professional associations (see sidebar). Codi Nelson, team leader and BMET III for Crothall Services at Iredell Health System in Statesville, NC, suggested that aspiring HTM leaders "check out your local Toastmasters International Club or pick up a book. I highly recommend anything by Ken Blanchard, Patrick Lencioni, or John Maxwell, or anything published by Harvard Business Review."

Other Soft Skill Resources
To read more about soft skills training for different levels of HTM professionals, see " As HTM Evolves, Soft Skills Become More Important" in the January/February issue of BI&T (Biomedical Instrumentation & Technology), AAMI's peer reviewed journal.
Here are some additional sources of professional soft skills instruction:
American College of Healthcare Executives (ACHE) fellowship (www.ache.org/fache)
College of Healthcare Information Management Executives (CHIME) Healthcare CIO and CISO Boot Camps (https://chimecentral.org)
Employer Associations of America (www.eaahub.org)
Healthcare Information and Management Systems Society (HIMSS; national and local chapters; www.himss.org)
Six Sigma professional development certifications