Respirators No Longer Need to Do Double Duty, FDA Says
By: Jennifer Peters
Categories: AAMI News, Sterilization Professionals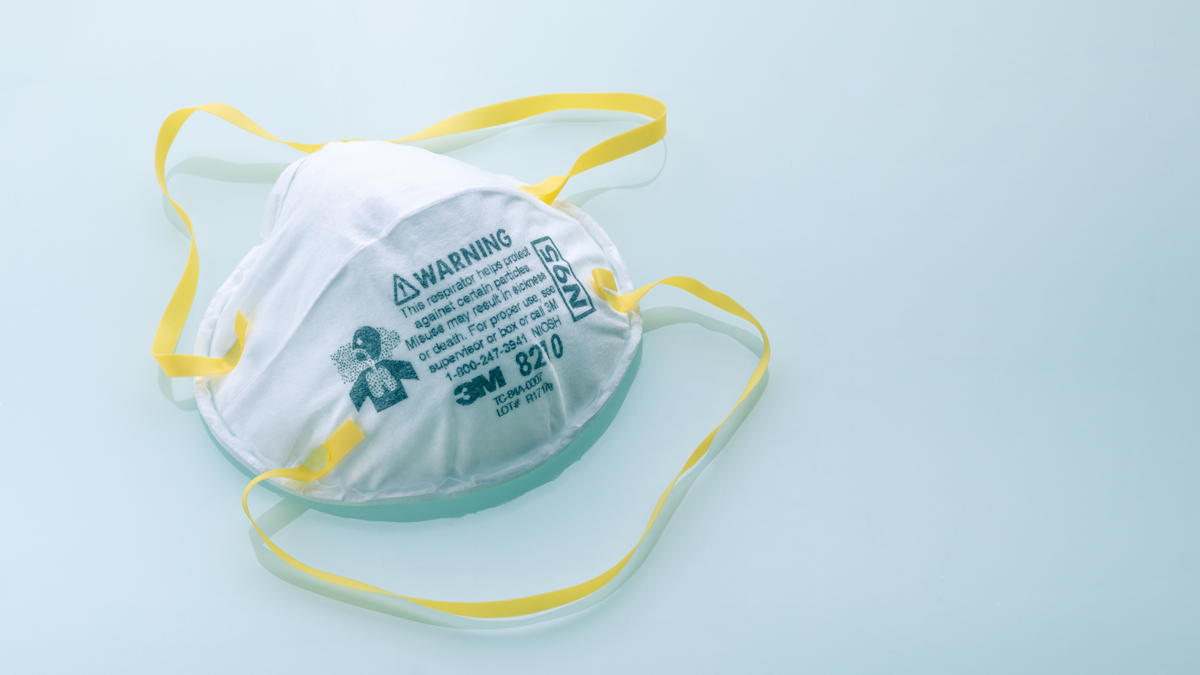 The FDA has issued new guidance to healthcare personnel and facilities saying that it is time to move on from the "crisis capacity conservation strategies" put in place at the height of the COVID-19 pandemic. Medical facilities have been advised that they can stop decontaminating disposable respirators for reuse and can go back to pre-pandemic practices.
According to the FDA, the CDC has cleared new supplies of respirators, meaning it is no longer necessary to reuse disposable units for either crisis capacity needs or bioburden reduction.
The practice of sterilizing and reusing disposable respirators was "one of the most extreme measures of respirator conservation" during the past 13 months, said FDA Senior Project Manager Aftin Ross in a webinar with healthcare providers on April 27.
Ross noted that the reuse of decontaminated disposable respirators was only to be done when new National Institute for Occupational Safety and Health (NIOSH) approved or FDA-cleared N95 filtering facepiece respirators (FFRs) were unavailable.
Guidance allowing for the reuse of decontaminated disposable respirators was issued by FDA on March 28, 2020, during the first wave of COVID hospitalizations in the United States. At the time, Rear Admiral Denise Hinton, FDA's Chief Scientist, noted in a letter to the CDC that "authorized respirators remain authorized if they have been decontaminated using an authorized decontamination system" under FDA's earlier Emergency Use Authorization (EUA).
The EUA allowed for decontamination and reuse of several types of respirators, including:
Non-powered air-purifying particulate FFRs and reusable respirators such as elastomeric half and full facepiece respirators, approved by NIOSH in accordance with 42 CFR Part 84 and listed on the NIOSH Certified Equipment list (CEL) for non-powered air purifying respirators with particulate protection;
Other powered air purifying respirators (PAPRs) approved by NIOSH, in accordance with 42 CFR Part 84, and that are listed on the NIOSH CEL for PAPRs with particulate protection;
FFRs that were NIOSH-approved but have since passed the manufacturers' recommended shelf-life, are not damaged, and have been held in accordance with manufacturers' storage conditions in strategic stockpiles; and,
Any authorized respirator under [1] or [3] above that has been decontaminated pursuant to the terms and conditions of an authorized decontamination system.
"We can not emphasize enough that respirator decontamination and bioburden reduction as crisis-capacity strategies were the most extreme respirator conservation strategies that should only be used when there is insufficient supply of new FFRs or if you are unable to obtain any new respirators," Ross said.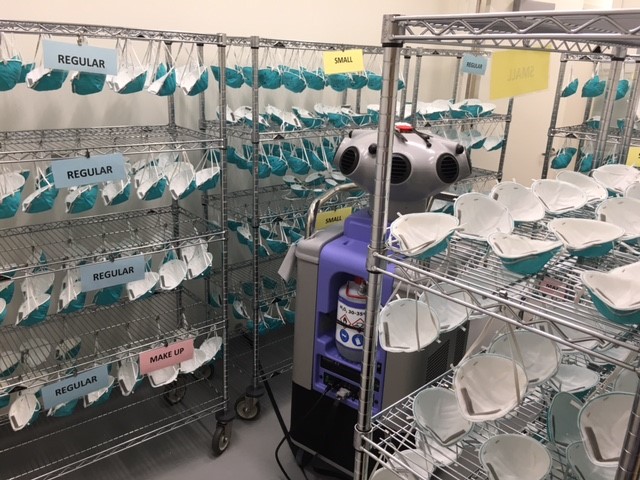 N95 masks are prepped for decontamination at Duke Raleigh Hospital. During the COVID-19 pandemic, they implemented an extensive PPE conservation and reuse strategy based on CDC guidance. Read about it.
Chad Dowell, Deputy Associate Director of NIOSH, noted that some of the crisis-capacity strategies being removed were "less protective to healthcare providers." He added that while supply of new respirators has increased substantially, "CDC was still hearing that frontline healthcare personnel were having difficulty accessing respirators and are still practicing crisis-capacity strategies such as reuse of disposable N95 respirators."
In the months since the EUA was issued, however, the national supply of new disposable respirators has "significantly increased," Ross stated, and many facilities have already started phasing out respirator decontamination. Now, Ross said, FDA is advising that all healthcare personnel and facilities rollback the decontamination as part of a "staged approach" to getting back to contingency and eventually conventional respirator use.
As part of the process to returning to normal, FDA will no longer be reviewing or authorizing new decontamination systems.
While decontamination processes are being terminated, NIOSH has spent the past year working to ensure that there are enough new respirators available. Since January 2020, NIOSH has approved more than 875 respirator models or configurations, with a number of these being produced by approximately 20 new domestic NIOSH approval holders, Ross shared. "To give you further insight into the magnitude of respirators available, I would like to highlight that today there are over 6,400 total respirator models or configurations on the NIOSH certified equipment list," Ross said. "These wide-ranging respirator types include more than 600 FFR models, of which there are over 530 N95 models, over 360 PAPR configurations, and over 5,500 elastomeric respirator configurations, including new elastomeric respirators without an exhalation valve."
Ross noted that the availability of elastomeric respirators without an exhalation valve is significant, as "one of the obstacles limiting the wider use of these reusable respirators in healthcare settings has been the inclusion of exhalation valves as a design feature." The valves prohibited these respirators from being used in operating rooms, as exhaled air could transmit infection or contaminate the sterile field.
Ross encouraged healthcare facilities to stock up on new respirators, as there is currently a surplus in the supply chain. "Even if you are unable to obtain the respirator model you prefer, FDA recommends that you obtain and use a new respirator before decontaminating or bioburden reducing a preferred disposable respirator," she said.
Further, Ross stated that FDA has been closely monitoring the domestic respirator supply and will continue to do so as they move away from decontamination practices to further inform their next steps. She also specified that while FDA is slowly phasing out crisis-capacity practices, surgical respirators will remain on FDA's supply shortage list, and conservation strategies will continue until healthcare personnel can return to complete conventional respirator use.
Dionne Williams, Director of the Occupational Safety and Health Administration (OSHA), noted that OSHA is also requiring that healthcare personnel be provided with new respirators when they are available, as reuse of decontaminated disposable respirators is prohibited under OSHA's respiratory protection standard. Williams noted that OSHA "had not previously waived any of its requirements and that any enforcement discretions that were granted in the peak of the pandemic were intended to be highly limited and applied on a case-by-case basis."
Healthcare facilities and personnel looking to add new NIOSH-approved respirators to their inventory can learn more about the devices and which may be best for them here.