Pitch Your Innovative Digital Health Solutions at AAMI Xcelerator 2020
April 1, 2020
Categories: AAMI News, HTM Professionals, Medical Device Manufacturers, Sterilization Professionals
With health technology growing increasingly connected, new and innovative digital health solutions are vital to advancing the future of healthcare delivery. That's why AAMI is calling on innovators and startups to pitch their digital health solutions at the AAMI Xcelerator, where they'll compete for $9,000 in prizes, expert mentoring, and access to business advisors.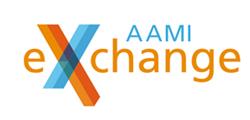 The AAMI Xcelerator Pitch Competition on June 14 will take place during AAMI Exchange 2020 in New Orleans, LA. Last year's competition featured several impressive entries, including an augmented reality system intended to improve surgical treatment for cancer patients, an interactive telerehabilitation platform for children, and an analytical tool to optimize patient scheduling.
"As health sector changes continue to gather speed, we expect to see exciting and innovative solutions presented at the AAMI Xcelerator," said AAMI President and CEO Rob Jensen. "AAMI is committed to offering health technology startups an opportunity to present their ideas for improved healthcare delivery through advanced technologies. All of us at AAMI look forward to the presentations these innovators will share with us during AAMIExchange 2020."
Collaborators include the Albert Lepage Center for Entrepreneurship and Innovation, Greater New Orleans, Inc., New Orleans Bio Innovation Center, Tulane University, and Xavier University. All collaborators support this opportunity to highlight innovations emanating from the greater New Orleans community, and to support regional economic development.
To apply for the 2020 AAMI Xcelerator Pitch Competition, visit www.aami.org/Xcelerator. Applications are due May 1.