ONE on ONE with Steve Campbell
STEVE CAMPBELL is the chief operating officer of AAMI and executive director of the AAMI Foundation. He became acting president of AAMI in November.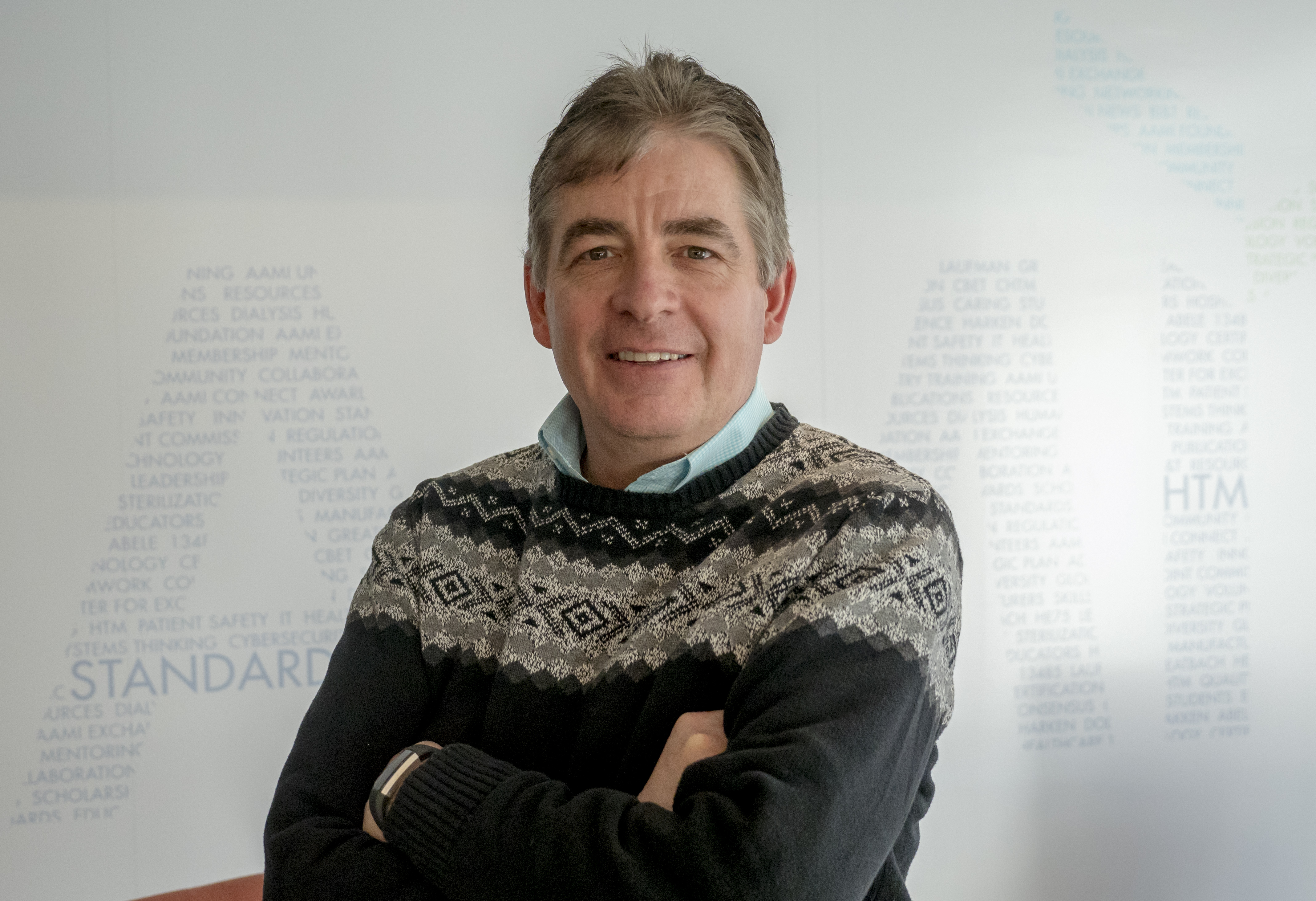 Q What was your path to AAMI?
I earned my degree in business administration with a minor in communications and fell in love with journalism. I was a journalist on Capitol Hill for a decade, and then decided to change careers and became the managing editor of AAMI's journal, BI&T. That was 20 years ago. Since that time, I've worked my way up and broadened my portfolio to include marketing, membership, operations, HR, and IT. I became AAMI's COO several years ago.
Q What's changed the most in the last 20 years at AAMI?
We've become far more nimble in responding to changing events and the fast nature of societal change. For example, we have more immediate coverage of news events and new modern means of communications. Our educational programs have expanded and become more interactive to respond to the changes in regulations and other industry changes. We've come a long way, but we continue to strive to improve our benefits and services to members.
We have always been—and we remain—an honest broker in the field. It's critically important that we maintain our neutrality. We are a conveyor and trusted and impartial voice for the healthcare field. That is essential and hasn't changed. I'm also proud to say that we are known for the quality of our content and that hasn't changed. That is our brand, and we are committed to that.
Q What do you enjoy in your spare time?
In normal, non-COVID times, I love to travel. But in these times, I like yard projects, walking the dogs, and spending time with friends. In my free time, I gravitate to anything that makes me smile or laugh.
Q What are your immediate plans as acting president of AAMI?
I'm in the information-gathering stage. I've just completed one-on-one meetings with AAMI's Management Team members to identify what opportunities they see for us to grow and improve. I also invited staff to submit their suggestions. I would also love to hear from AAMI members about these issues. Just a quick e-mail with an idea will help us pull together priorities for 2021. You can reach me at scampbell@aami.org.
Thankfully, AAMI is in a terrific position. We are financially strong, our membership is growing, we have a terrific Board of Directors, and a new Strategic Plan. So we have all the ingredients for great success in the coming year.
Q What's your favorite food?
As a native of Maine, I love seafood: lobster, scallops, shrimp. And I'm also a big fan of Italian food.
There are too many to list. I can be picky. But broccoli probably tops the list and liver. I also don't eat any pork.
It's probably corny to say, but it's definitely my mother. My father died unexpectedly when he was 48. So, she was thrust into a situation of raising five boys ages 10 to 20 on her own. She also went back to work to put food on the table and managed to tolerate all of our youthful shenanigans. She passed away three years ago at the age of 93. I miss her a lot. But think back at all of the great times and laughs we shared.
Q 2020 has been quite a year. What are you looking forward to in 2021?
I'm looking forward to normalcy and traveling.
Q Who do you identify most with—George, Jerry, Kramer, or Elaine?
Definitely Jerry, but I love them all.