One on One with Horlando Cintron
October 1, 2019
Categories: AAMI News, Sterilization, Sterilization Professionals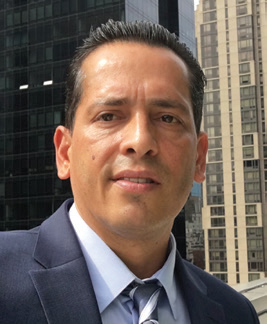 HORLANDO CINTRON, CRCST, CHL, is a manager in the central processing department at Memorial Sloan Kettering Cancer Center in Middletown, NJ.
What do you do in your current position at Memorial Sloan Kettering Cancer Center?
I manage the perioperative support staff and central processing department. In my role, I oversee the budget, logistic operations, supply management, biomedical equipment operations, environmental services, and surgical support associates in the operating room. I am responsible for making sure all sterile and high-level disinfected instruments, such as scopes and probes, are readily available.
What inspired you to enter your professional field?
I was fortunate to enter the healthcare field back in 1994. Back then, certification in central processing was not mandatory in any state. However, many of the leaders I met throughout my career shared a vision of having certified central sterile technicians in the field to support the operating room. During this time, I began to understand the critical importance and impact certification had on healthcare and developed a similar passion for education.
I am now a board member of the New Jersey Healthcare Central Service Association (NJHCSA) and volunteer my time to support ongoing educational opportunities and professional development to enrich the delivery of healthcare.
How has your job evolved over the last 10 years?
When I started in central sterile processing, ur department was focused solely on decontaminating and sterilizing all instruments and linens. Over the years, our role changed and we started picking and prepping supplies and instrumentation. Now, we use systems and protocols that I helped to develop to ensure the proper setup is readily available for every operating room procedure.
Have any major developments in the field dramatically changed the way you work?
Absolutely. Having The Joint Commission focus on sterilization and high-level disinfection has helped transform the way central sterilization technicians work and think. With such a robust focus on central sterilization, our technicians' level of knowledge has expanded to the point that everything they do is based on manufacturers' instructions for use. This is a positive change.
Can you describe some of the challenges you face at work?
Used loaner trays are one of my biggest everyday challenges! Specifically, it is very challenging when we get requests for more than 40 loaner trays with less than 24 hours to procedural start for a single elective procedure. Innovation has made processing safer for patients by offering multipart instruments that are easier to clean. However, the sterilization process is more cumbersome and time consuming for central sterilization departments.
What do you like most about your job?
By far, the most rewarding thing for me is knowing that what we do contributes to excellent patient outcomes.
What is the best career advice you've ever received?
Pick and choose your battles wisely! Knowing where to draw the line and understanding that many departments are designed to support our healthcare institutions has helped me manage stress, sleep better, and live a more healthy and fruitful life.
What do you like to do outside of work?
Spending time with my wife, children, and my elderly mother is what I enjoy most! I also enjoy volunteering my time by sitting on the NJHCSA, which is a subchapter of the International Association of Healthcare Central Service Materiel Management; being a cochair of AAMI's Chemical Sterilants Hospital Practices Working Group (AAMI ST/WG 61); and sitting on other AAMI working groups that are responsible for providing guidelines to end users in healthcare institutions.