ONE on ONE with Herman McKenzie on Coronavirus
April 1, 2020
HERMAN MCKENZIE, MBA, CHSP, is director of the Department of Engineering, Standards Interpretation Group at The Joint Commission.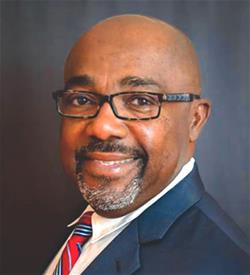 Q Is The Joint Commission still conducting surveys at this time?

No, The Joint Commission has suspended all surveys and field work until further notice.
Q Some healthcare organizations are denying access to service providers in order to support "social distancing" to prevent community spread. We are also aware of vendors' staffs who refuse to enter facilities where COVID-19 is suspected to have positively tested cases. Will accrediting organizations, such as The Joint Commission, be waiving maintenance interval requirements?
Please be aware that inspection, testing, and maintenance activities are established by the Centers for Medicare & Medicaid Services (CMS) as Conditions of Participation(COPs), not by the accrediting organizations themselves. Any accrediting organization ,including The Joint Commission, cannot waive these requirements—only CMS can. Since the president has declared a national state of emergency, CMS can issue a 1135 waiver to waive certain requirements. We are waiting to hear if medical equipment inspections and testing will be one of those waivers. We will keep you all posted as we learn more.
Q We've heard a few vendors who have said that they are unable to send their staff to perform service or preventive maintenance due to a shortage of people as well as travel restrictions. We may not need necessarily a waiver for the time being because surveys are being suspended, but when the surveys are resumed, will there be a grace period to catch up? Right now, we really don't have the means to catch up even if all the workers are available, as some parts are also not arriving on time.
Although the reasons vary, the second question poses some of the same issues as the first. During this crisis, organizations will not be able to meet equipment maintenance schedules. The response is the same; regardless of the reason that an organization cannot meet COP requirements, accrediting organizations cannot in and of themselves waive them. We are waiting for CMS to possibly take a position on these matters.
Q We are getting a lot of questions from healthcare providers about using products for an off-label use. Specifically, this has come up for using anesthesia machines as ventilator devices. Is there any guidance The Joint Commission can provide regarding off-label use during this crisis?

The Food and Drug Administration governs the approval of devices for medical use. and should be consulted on this matter. It is not within the purview of The Joint Commission.
Have questions? Submit them to The Joint Commission at www.aami.org/AskTJC or start a conversation with your peers on AAMI Connect.