One on One with Elena Buckley
February 18, 2021
Categories: AAMI News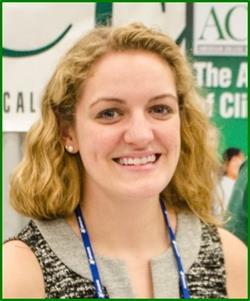 Elena Buckley is chief of clinical engineering at VA Boston Healthcare System and Bedford VA Medical Center. Buckley recently presented at AAMI's Summer Learning Series on recruiting, retaining, and understanding HTM professionals. She has been approved as a member of the AAMI Foundation Board.

What initially drew you to your profession?
As I started my senior year at Boston University, I struggled with the notion of, "What do I want to be when I grow up?" My college path had up to that point been focused on medical school. However, my interest in biomedical engineering kept me wondering if being a clinician was right for me. During one of our senior seminars, we had a presentation on "where do biomedical engineers end up after college?" I remember that presentation so vividly because for the first time, I knew what I wanted to do. After leaving that seminar, I applied to the University of Connecticut Clinical Engineering Program, and the rest is history. I am so glad I was able to find a way to impact healthcare while utilizing my biomedical engineering degree.
What is something that people might not know about you?
I have a closet obsession with crime TV shows.
What advice would you give someone new to the HTM field?
Be the first one to raise your hand for new projects. The best way to learn new technology and familiarize yourself with the hospital is to take on any project offered to you.
Step outside of your comfort zone and learn as much as you can about IT. Networked medical equipment is the way of the future.
Build a relationship with both the biomedical equipment technicians and biomedical engineers within your department. A successful HTM department is a collaboration between the two and both groups of individuals are essential for a successful department.
Communicate and ask questions. Don't be afraid to admit you don't know something.
Where do you see your life and career in five years?
Continuing to be the best mom I can be and hopefully being promoted to hospital leadership as an assistant/associate director or COO.
What is your passion outside of work?
I spend most of my time raising my two boys, Caden (2 years old) and Wyatt (4 months). A child's passion for life is invigorating and they constantly keep me smiling and laughing. HTM is often a high stress job and it is important to have a good work/life balance. My family is so incredibly important to me and my husband and I love watching our boys grow.
What's your favorite book?
Ken Follet's Pillars of the Earth.
Least favorite?
There isn't one that I dislike although I tend to shy away from nonfiction.
Whom do you look up to?
My mom and dad are two of the hardest working people I know, and they have taught me so much about working hard and being kind and compassionate towards everyone. Both of my parents worked full time and raised three children. Now raising children, I have learned to appreciate how much work goes into these two "full time jobs" and it makes me look up to them even more.
What does the next generation of HTM professionals need to thrive?
A willingness to work hard and not being afraid to bring new ideas to our ever-changing field.
What's your most enjoyable part about volunteering?
I get to learn new things and meet new people! I love networking with other members of the HTM community.