One on One: Luis E. Araiza Colunga
April 20, 2021
Categories: AAMI News, Sterilization Professionals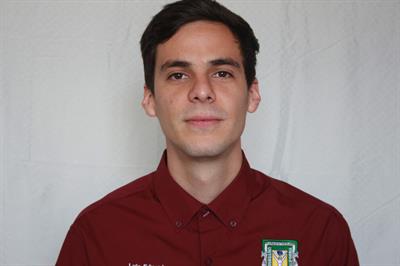 Luis E. Araiza Colunga is a sterilization engineer at ICU Medical de México.

What's your passion?

I have an immense curiosity towards biology and history but also consider arts, sports, and outside activities as my utter passion.

What was your path to becoming a sterilization engineer?
After 10 years of customer service, I was convinced that once I finished my bioengineering degree, I wanted to focus on applied microbiology. Once graduated, I was given the opportunity to intern in the quality department then start as a dosimetry technician and later as an engineer at ICU Medical de Mexico. I was able to meet and clarify some of my actual career goals, and for that I'm grateful.


What do you enjoy in your spare time?
Taking a walk with my dog, being with my friends, soccer, videogames, drums, and going for a swim in the sea.

How has AAMI's industrial ethylene oxide course helped your career?
The course helped me to further understand the technology and science behind Ethylene Oxide sterilization, as well for the regulatory compliances necessary to operate in the industry. I found it beneficial for those who want to expand their knowledge about this sterilization method.

What's your favorite meal?
As a Mexican, this is a tough one! I'd go with Mole, maybe Chilaquiles rojos but also Birria. I just can't give a single answer for this.

You are a specialist in e-beam sterilization. How does that technology work?
Imagine electrons as tiny-yet-efficient bullets accelerated by a linear accelerator that rip off and tear organelles and DNA/RNA strands present on any microscopic entity. That leaves the cell dead and without the ability to reproduce without generating toxic radioactive waste or residuals on product and avoiding damage to the processed lot.

Who is your inspiration?
My family, a few university teachers, and my first boss.


What do you see as the biggest challenges in the sterilization field today?

Lack of sterility QA program.

Cross training and staff knowledge of processes both within and outside of sterile processing are a must.

Insufficient sterile processing capacity.

This is an example where investment to an external sterilizer may be necessary to cover production output.

Product adoption between sterilization methods

. Although this is ultimately a common evaluation, in order to sterilize your product without risking biocompatibility and product functionality, defined product characteristics may comply to certain sterilization methods that are or are not present in your organization requiring for an external service and/or guidance for adoption itself.

Where would you go, if you could go anywhere on a trip?
I'd go to Switzerland and take a hike to the Swiss alps.


What's your favorite movie, and why?
The Lord of the Rings trilogy, because J. R. R. Tolkien teaches us the meaning of hope and that our world has so much good and it is place that is worth fighting for (I'm a nerd).