New TIR Helps Industry Meet Global Quality Management Expectations
October 1, 2019
Categories: AAMI News, Medical Device Manufacturers, Medical Device Manufacturing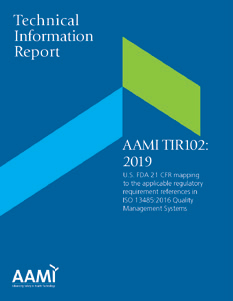 A new technical information report (TIR) published by AAMI aims to help U.S. medical device manufacturers better understand Food and Drug Administration (FDA) regulatory requirements during the agency's transition from the quality management standard 21 CFR 820 to the international standard, AAMI/ANSI/ISO 13485:2016.
The FDA originally announced its intention to replace 21 CFR 820 with the international standard in May 2018.
Using AAMI TIR102:2019, U.S. FDA 21 CFR mapping to the applicable regulatory requirement references in ISO 13485:2016 Quality Management Systems, manufacturers can identify the key similarities and differences between 21 CFR 820 and 13485. This mapping will prove useful to manufacturers that currently comply with both standards as well as to manufacturers as they transition to 13485.
While the transition may be painful in the short-term, having one global set of quality management system standards is expected to offer long term benefits thanks to eliminating redundancy.
"The FDA's plan represents a huge step toward true global harmonization of medical device quality management systems, and AAMI TIR102 will help remove the mystery and facilitate a smooth transition," said Wil Vargas, director of standards at AAMI.
TIR102 contains a "translational matrix" consisting of two sets of tables that compare the differences, similarities, and quality system considerations between 21 CFR 820 and 13485 requirements. The TIR is intended to be used by medical device manufacturers that are already familiar with quality management system requirements and terminology.
TIR102 is available for purchase at the AAMI Store. In addition, AAMI has updated its quality systems training courses to reflect the transition to the harmonized international standard.