Joint Commission Checklist Proves 'Instrument-al' for Sterile Processing Department
By: W. Zeh Wellington, John Olmstead, Christine Pytel
June 23, 2021
Categories: AAMI News, Sterilization Professionals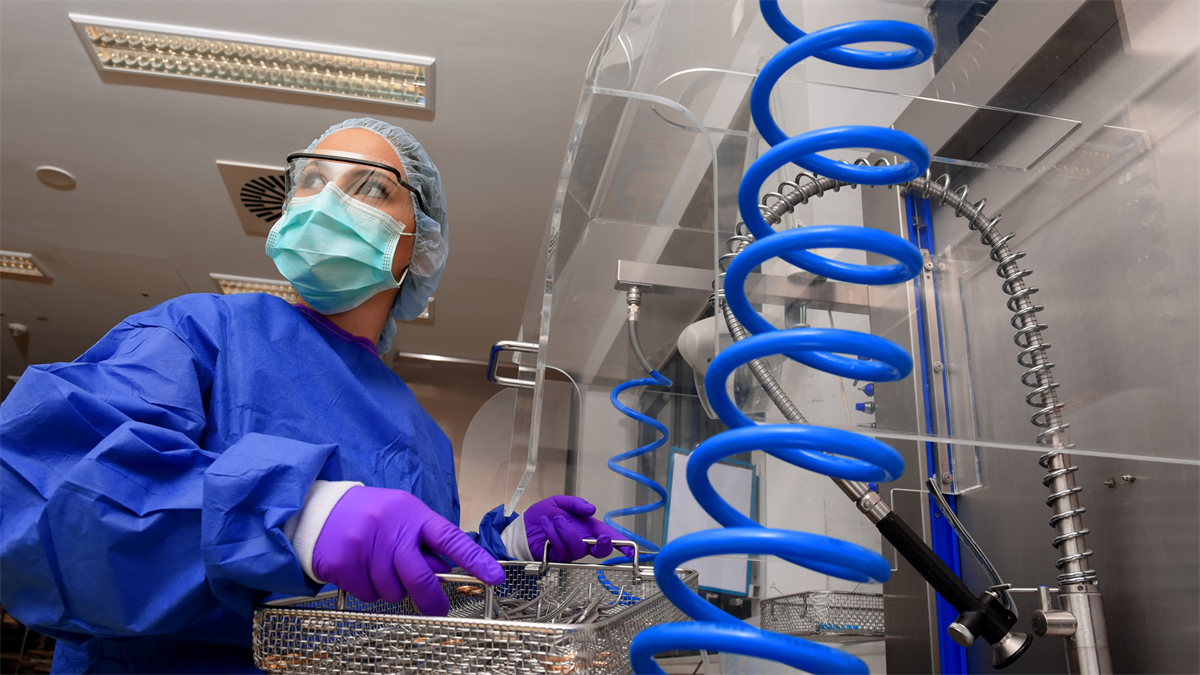 Have you ever found yourself anxiously running down the hallway after being alerted that The Joint Commission (TJC) has arrived at your healthcare facility and is heading to the sterile processing department (SPD)? The management team at the Ann & Robert H. Lurie Children's Hospital of Chicago has experienced this heart-racing phenomenon many times.
Located in the heart of downtown Chicago, this 360-bed facility is ranked among the nation's top children's hospitals in the country by U.S. News & World Report. Lurie Children's Hospital also serves as the pediatric training center for the Northwestern University Feinberg School of Medicine. With more than 1,800 physicians and health professionals in over 70 pediatric specialties, the hospital cared for more than 220,000 children from 48 states and 49 countries in 2020 alone.
Although we run a safe, clean, and top-notch SPD, a visit from TJC—which accredits more than 19,000 healthcare organizations and programs in the United States—can be scary. With the goal of improving our care teams by sharing lessons learned, we have developed a TJC checklist that can be reviewed by staff each day.
Examples of vitally important checklist items include remembering to clear hallways and stairwells of equipment or carts, ensuring all solutions are labeled with name and volume, making sure expiration dates are checked, and reinforcing hand hygiene. As a team, we decided that formulating and developing a plan as a daily reminder would ensure that these and other important criteria are met.
"To be prepared for a TJC visit, you need to prepare every day," said Charles Williams, CSPDT, manager of the SPD at Lurie Children's Hospital. The leadership team devised a checklist to reinforce the responsibilities of each team member, to keep the unit safe, and to be prepared for a "spot" TJC accreditation visit.
"Teamwork wins the game," said Krystal Westmorland, CSPM, CSPDT, CFER, sterile processing educator at Lurie Children's Hospital, who works daily with each new and seasoned staff member to ensure that tasks are completed successfully.
"Taking the time to do things right, each day, leads to great successes in the future. We use this checklist as a training tool to check and double check—each other, our unit, and our processes," added Westmorland. "I am confident that our SDP is ready for any accreditation visit because helping patients is our passion."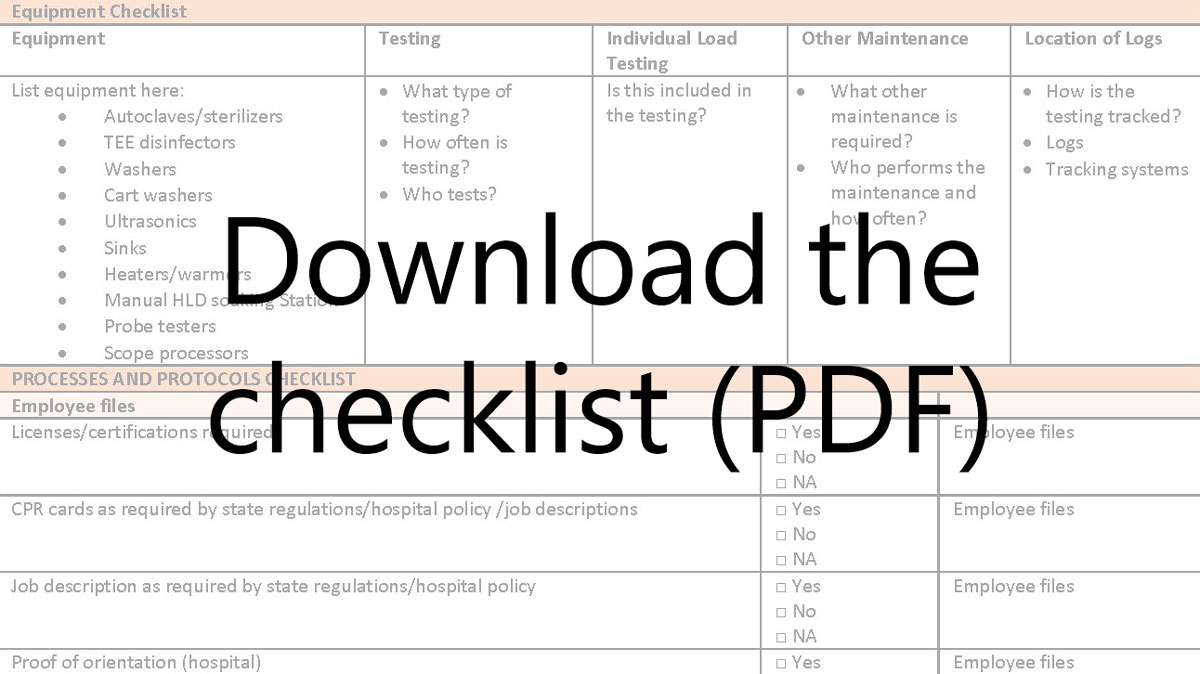 Checklist used by the sterile processing department at the Ann & Robert H. Lurie Children's Hospital of Chicago to educate staff and maintain preparation for Joint Commission accreditation surveys. Abbreviations used: AED, automated external defibrillator; BI, biological indicator; CPR, cardiopulmonary resuscitation; HLD, high-level disinfection; IFU, instructions for use; IUSS, immediate-use steam sterilization; NA, not applicable. [Joint Commission Checklist]
The mission of Lurie Children's Hospital, according to Westmoreland, is "to provide the safest, most up-to-date care within our power."

"Through these acts of service, we advance positive procedural change and are a part of the journey to wellness in the lives of children in our care," she said. "That means that we are relentless in the self-reflection of our improvement process. We constantly review for ways to improve safety and service, and then we share our knowledge with other teams."
After the plan was developed and tested, the team compiled a list of common pitfalls and lessons learned. To make the list more workable, the following action items were developed:
Paying attention to the inventory of peel-packed items and ensuring that instruments are guarded, processed, and packaged correctly.
Discontinuing the use of tape.
Confirming that corrugated cardboard boxes and shipping boxes are properly disposed of and recycled.
Confirming lined shelving on the bottom of storage shelving units to prevent environmental services (EVS) contamination.
Confirming the location of an EVS-documented schedule of cleaning for the department.
Our SPD and procedural department leadership teams developed the checklist as both an orientation/education tool and a guide for preparing for accreditation surveys:
Orientation/education tool. The checklist includes information on policies and the location of the policies, staff competency reviews on equipment and processes, location of equipment and sterilization logs, and a review of and location of any other quality data required by the SPD and the institution. Using the checklist in this manner allows for a thorough orientation and/or staff review.
Accreditation surveys. The checklist also acts as a measurement tool to plan for unannounced accreditation visits. Using the checklist in this matter allows for continuous leadership and staff involvement in the daily preparation of a TJC or other regulatory survey. Repetition is key in that, similar to a flight checklist, the same questions and processes are reviewed on an established time-driven basis (e.g., weekly). Examples of questions to be reviewed include: Are we operating safely? Are all sterilization logs readily available, and where are the logs located? Are exits unobstructed? Has biomedical testing of the equipment been performed, and where is that information stored? Also, how does the department show proof of staff competency in tasks such as flexible endoscope cleaning and storage and instrument handling and sterilization processes?
How well department staff members work together makes or breaks a department and can make or break the hospital experience for procedural patients. The hard-working SPD gels together wonderfully and stays motivated by understanding and relishing its role in providing a successful hospital experience.
The SPD staff work tirelessly to be role models for providing great service and for being the bedrock of the Lurie Children's Hospital procedural experience. Much of the SPD's success stems from strong education and training, as well as continuous vigilance and preparation. The department is prepared—and staff members are ready for that very welcomed TJC accreditation visit.


W. Zeh Wellington, DNP, RN, NE-BC, is the director of procedural care–surgical services at the Ann and Robert H. Lurie Children's Hospital of Chicago, IL. Email: wwellington@luriechildrens.org
John Olmstead, MBA, MSN, RN, CNOR, FACHE, is the senior director of procedural services at the Ann and Robert H. Lurie Children's Hospital of Chicago, IL. Email: jolmstead@luriechildrens.org
Christine Pytel, APN/CNS, CNOR, CPN, is a clinical nurse specialist of procedural services at the Ann and Robert H. Lurie Children's Hospital of Chicago, IL. Email: cpytel@luriechildrens.org