First Fully Disposable Duodenoscope Receives FDA Clearance
February 1, 2020
Categories: AAMI News, Clinical, Government, Health Technology Management, HTM Professionals, Medical Device Manufacturers, Medical Device Manufacturing, Sterilization, Sterilization Professionals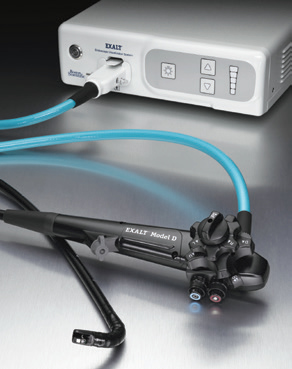 The FDA approved the first full disposable duodenoscope. Photo courtesy of Boston Scientific.

The Food and Drug Administration (FDA) has granted 510(k) premarket clearance to the first fully disposable duodenoscope. The EXALT Model D duodenoscope, developed by Boston Scientific, is intended to eliminate the risk of transmitting infection-causing bacteria from one patient to another that can occur as a result of ineffective processing.
Prior to marketing clearance, the EXALT Model D was granted breakthrough device designation by the FDA, which meant the agency provided in-depth device development guidance to Boston Scientific to expedite evidence generation for its review through the FDA's 510(k) premarket clearance pathway.
"The availability of a fully disposable duodenoscope represents another major step forward for improving the safety of these devices, which are used in more than 500,000 procedures in the U.S. each year," said Jeff Shuren, director of the FDA's Center for Devices and Radiological Health in a statement, adding that the devices "remain critical to life-saving care for many patients."
In August 2019, the FDA issued a safety communication in response to reports of patient infections caused by improperly processed duodenoscopes. In the communication, the FDA recommended healthcare facilities transition to devices with disposable components and encouraged manufacturers to design partially or fully disposable duodenoscopes to reduce the risk of patient infection.
In November, the FDA convened its General Hospital and Personal Use Devices Advisory Committee to further address the agency's questions regarding effective processing of duodenoscopes and potential technological advancements that would enhance the safety of endoscopy procedures.
The FDA has previously cleared duodenoscope designs with disposable endcaps and elevator components, but the EXALT Model D is the first fully disposable duodenoscope to achieve clearance. The company plans to begin a limited market release of the device in the U.S. during the first quarter of 2020.