'Daddy's Machine': HTM Professional Services Son's Radiation Therapy Device
By: Jennifer Peters
September 29, 2021
Categories: AAMI News, HTM Professionals, Medical Device Manufacturers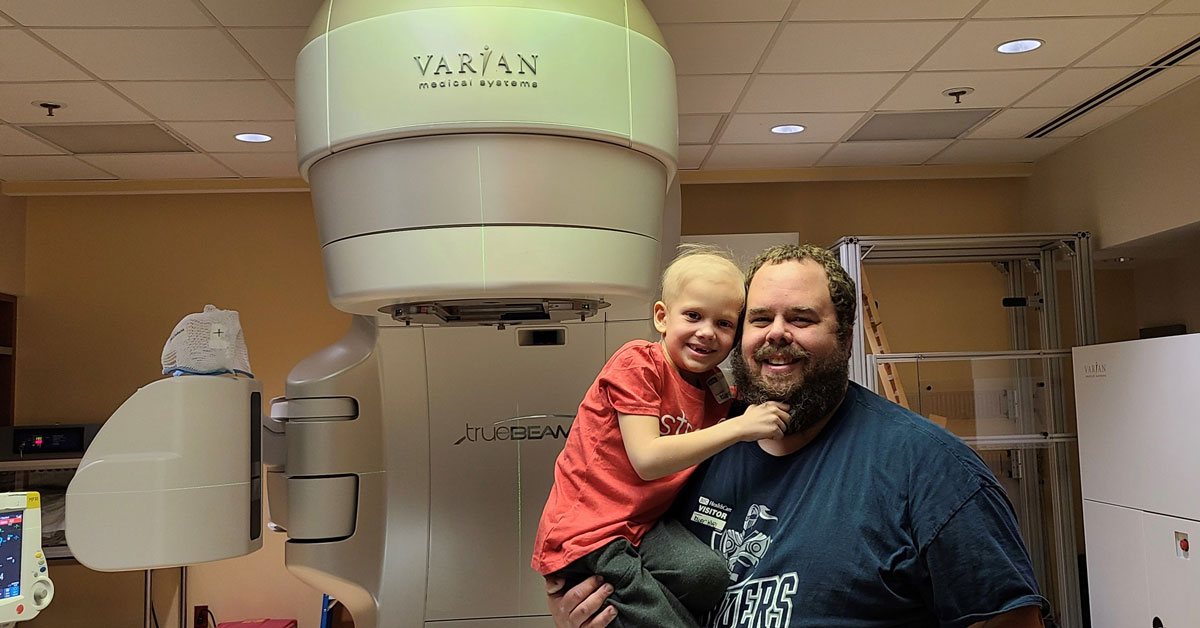 Working in healthcare technology management (HTM) often means making an impact while remaining invisible—at least to patients. But for those who have been on both sides of the machine, like Matt Neil, a radiotherapy service engineer at BJC Healthcare in Springfield, MO, that "invisible" work is front and center.
Neil's 6-year-old son, Isaiah, was diagnosed with cancer in January, during a procedure to remove what they believed was a benign nasal polyp. Instead, Neil and his wife learned that their youngest son had rhabdomyosarcoma, a soft-tissue cancer. Following that initial appointment, Isaiah was sent by helicopter to the St. Louis Children's Hospital, four hours away from the family home.
When Neil approached his manager about having to go to St. Louis, he was expecting to have to take the time off. Instead, his manager told him to stay put and work out of Children's Hospital; they would bring someone from St. Louis to fill his spot in Springfield in the meantime. "They stepped up huge then and they continue to step up huge," Neil said of his coworkers. "Any time I need an extra day, if Isaiah is sick and or he's going to have an extra admission into the hospital, all I have to say is, 'Hey, I need this day,' And that's the last I have to say about it. They work everything out among themselves."
By allowing Neil to keep working while he stayed in St. Louis, his colleagues gave him another gift: the opportunity to guarantee his son's care was the best it could be, by servicing the device that delivers Isaiah's radiation therapy treatments.
"There was one night in particular where we lost power to the cancer center, five minutes before I was supposed to go home. I was working down there, and the lights went out in our shop, and I just picked up my bag and said, 'It's time to go to work,'" Neil said.
Most of the systems were back up and running in no time, but the radiation system that would be treating Isaiah in the morning was giving him more trouble and needed a rather significant repair before it was ready for patients. Neil stayed up late that night to make sure that the machine would be ready to go for his son's 7:00 a.m. treatment.
"We would always work late nights to get things fixed, so that the patients can be treated first thing in the morning. That's just how we operate," he explained. "With HTM in general, you do what you have to do, but particularly in our field, we work a lot of overtime because the machines are used for treating patients all day. Then we get the machine at the end of the day, and we do our repairs or maintenance after hours.
"So, working late that night was like I've done a thousand times," Neil continued. "But knowing that the patient first thing in the morning who was going to be on that machine was Isaiah made it feel more urgent. And it was pretty rewarding when we got the system back up and all the tests were good, and everything was good to go. The next morning, nobody there had any idea that we had a whole machine torn apart the night before."
An Unwavering Calm


Neil has always been a bit of a "cool cucumber," thanks in part to the five years he spent in the U.S. Navy as a fire control technician, on a submarine. His unwavering calm isn't the only skill he picked up in the Navy that has benefited him during his transition to HTM work, though.
"I think, first and foremost, what I learned in the military was reliability," he said. "I was a manager of a clinical engineering department for a while and having people that you don't have to worry about, who you know are going to do their job and they're going to do it correctly was huge. "The military really teaches you that everybody has to pull their own weight and do their own part, and that's a really big thing to learn."
The military also gave him an introduction to the technical skills he would later call on during his HTM work. Having that background of knowledge and reliability made it easier for Neil to transition out of the military and into the civilian workforce in 2007. At a career fair he attended prior to his separation, he was introduced to several healthcare device companies, and he was immediately struck by a desire to work in the field.
"The equipment sounded so different than anything I had worked on, but yet something I felt like I could do because it wasn't just computers or it wasn't just mechanical, it was a little bit of everything," he explained. That sounded a lot like the work he'd been doing in the military, something he knew he could do even if being out of uniform made it a little bit more intimidating.
The Power of Positive


Now, more than a decade into his HTM career, Neil is just as comfortable with the healthcare machines and devices he's tasked with servicing, as proven by his ability to remain calm while repairing son Isaiah's radiation machine. His work has helped the family stay positive through Isaiah's months-long treatment, too.
"While we were at the hospital, Isaiah would say, 'I'm going on daddy's machine,' and he'd go in and he had to say his name and his birthday and show where he's being treated. And he'd say that. And then he would run into the vault ahead of everybody and jump up on the table," Neil said of his son. "He didn't have a fear of the machine. All of that was his bravery. Or maybe it was because he knew his old man was taking care of it. But it was heartwarming, and it was certainly unusual for everybody involved."
All of Neil's children handled the disruption of their lives with bravery, as well as extended family who have come in to help. Neil and his wife homeschool their four children, and when they had to pack up and shift their focus to Isaiah's radiation therapy, the kids did their best to show their support. Neil described Isaiah's twin sister as his son's "little protector" as the family went through this trying experience.
"She was always the boss. She always wants to be the center of attention. She's unicorns and sparkles and just in charge. And he's always been good to go with whatever she wants to do," Neil said. "She's had such empathy and such a care for him."
Today, after positive radiation scans showing the tumor has shrunk and months of radiation and chemotherapy treatments, life is getting back to normal for Isaiah — and the rest of the Neil family. But even as things return to normal, Matt Neil will continue to treat each machine he services "as if the next patient coming in the room is someone I love."
He knows firsthand how important it is that every family get the best possible care.