Call for Proposals now OPEN for eXchange 2022 in San Antonio
July 21, 2021
Categories: AAMI News, HTM Professionals, Medical Device Manufacturers, Sterilization Professionals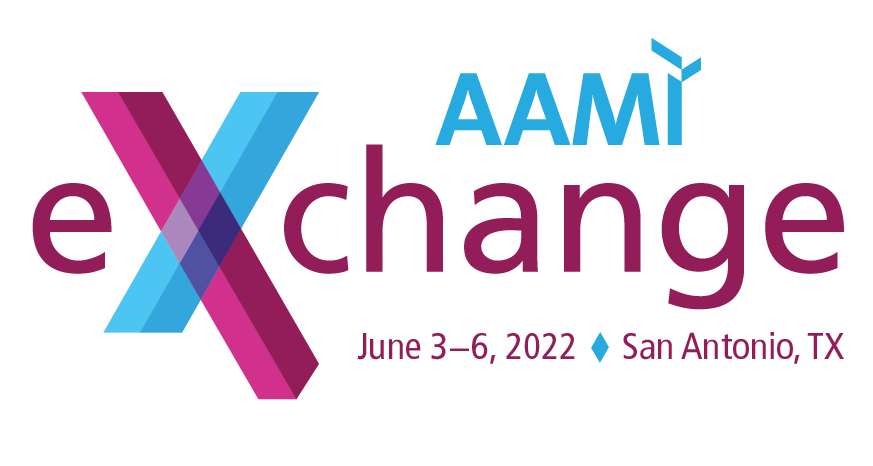 The Association of the Advancement of Medical Instrumentation (AAMI) is now accepting session proposals for AAMI eXchange 2022, taking place on June 3-6, 2022 in San Antonio, Texas.

AAMI eXchange brings together thousands of passionate professionals representing the diverse health technology management (HTM) community. Every year, sessions are selected from a highly competitive pool of submissions from thought leaders and innovators across the healthcare spectrum.
"AAMI eXchange is the industry forum for sharing new ideas, emerging innovations, and best practices in HTM. Everyone has something to contribute, and everyone has something to learn," said AAMI's Senior Vice President of Education, Robert Burroughs. "I'd encourage everyone in the field to consider what they can share that would help us all advance the profession together."
Priority acceptance is given to submissions offering fresh takes on the following topics:
3D printing
artificial intelligence/machine learning
career and professional development
cybersecurity
emergency preparedness
patient safety
equipment management
the Internet of Things (IoT)
meeting regulatory and accreditation requirements
sterilization
telehealth
virtual/augmented reality
Presenters are eligible to earn CEUs toward maintaining certification. The priority deadline for submissions is August 27 at 11:59 p.m. ET.



Looking Forward to AAMI eXchange 2022
The healthtech and HTM communities will come together June 3–6, 2022 at the beautiful Henry B. Gonzalez Convention Center, nestled alongside the world famous San Antonio Riverwalk. AAMI eXchange 2022 follows on the heels of the unique and highly successful AAMI exchange REWIRED— a fully online event which accounted for attendee safety during the COVID-19 pandemic.
After surveying attendees, presenters, and 37 sponsoring companies, the AAMI education team is now making plans to implement the best of REWIRED's successes into future in-person eXchange events.
eXchange 2022 registration will be open soon, as well as Expo Hall sales. Visit www.AAMI.org/AAMIexchange