Australia Cadetship Program Brings New Professionals to HTM
By: Chris Hayhurst
October 13, 2021
Categories: AAMI News, HTM Professionals, Medical Device Manufacturers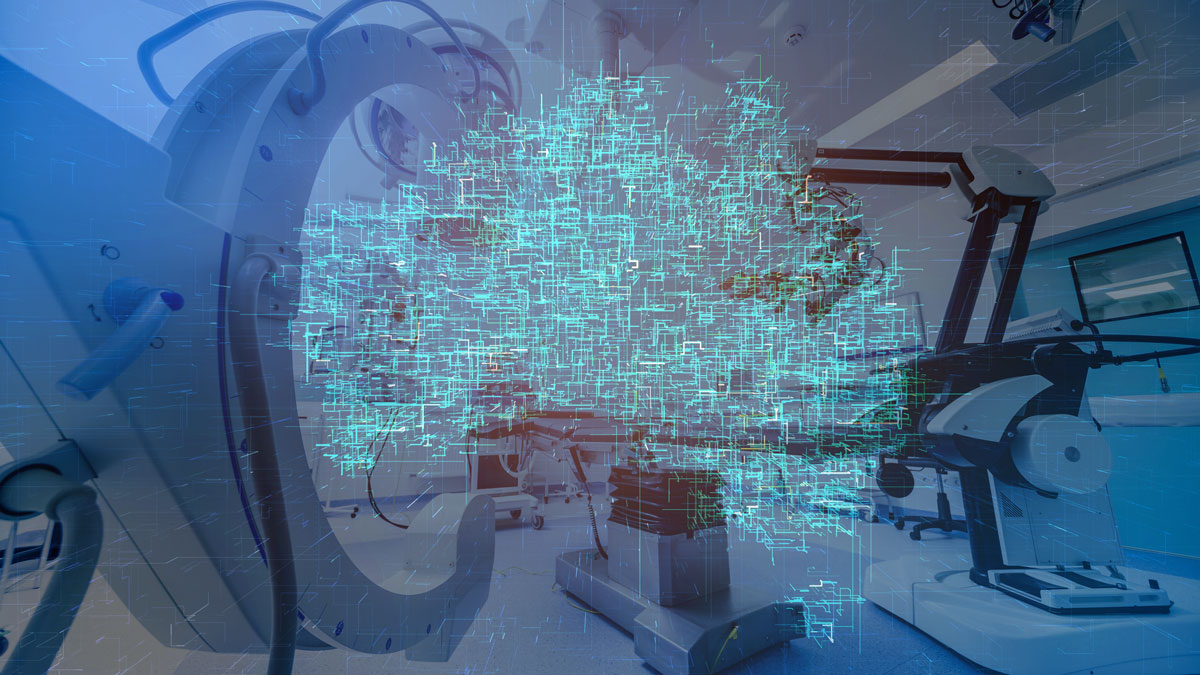 A little over 12 years ago, Nathan Norman had an idea. The statewide healthcare system where he worked—Biomedical Technology Services (BTS), which is part of Queensland Health, in Townsville, Australia—was having trouble finding biomedical technicians to fill open positions in its Biomedical Engineering department. Norman, who directed the department, looked around at other industries in the country that had struggled with their own staffing pipelines.
He realized a solution was staring them in the face. These sectors included stalwarts of the Australian economy, like manufacturing, the sugar industry, and especially the electricity industry.
"Like us, they had no trouble finding professionals for upper-level positions like the full-blown electrical engineers," Norman explained, "and they also had plenty of entry-level trainees or apprentices. But what they needed was the people in the middle—they needed technologists."
Norman discovered that the answer for each of those industries involved paraprofessional "cadetship" programs where participants attended college at the same time they received on-the-job training. "I said, 'Well, that's exactly what we've got to do.' We need to start a program with the support structures behind it so that when someone graduates, they don't just have their degree, they're fully prepared to be a biomedical technician."
Norman and his colleague, Terry Wheeler, put together a proposal and presented it to the BTS executive team. In 2009, "after a lot of hard work and a lot of convincing," they finally received funding for the project, and the BTS Biomedical Technician Cadetship Program was born.
Similarities to AAMI's BMET Apprenticeship Program
Norman reached out to AAMI recently when he learned that it had launched a national apprenticeship program for prospective BMETs in the United States. That initiative, which began last March, was also designed with staffing shortages in mind.
The backbone of hospitals and even laboratories, BMETs routinely service the medical devices that are needed to monitor patient health or record important data. Unfortunately, AAMI estimates that nearly half of the current U.S. HTM workforce is over the age of 50. Even as more BMETs retire, the number of U.S. college programs offering training for new technicians has dwindled due to budgetary constraints. As a result, healthcare systems are finding it increasingly difficult to fill these crucial positions.
"Across the U.S., we're seeing job openings for BMETs not getting filled for months at a time," said AAMI Senior Vice President of HTM Danielle McGeary. "This only serves to widen a training gap between the county's most senior and soon to be retiring BMETs and the next generation of HTM professionals."
The AAMI BMET Apprenticeship Program is meant to help solve that problem by replacing the standard four-year BMET academic program with more than 4,000 hours of paid, on-the-job training. The program's costs would be covered by employers with support from the U.S. Department of Labor. Trainees would study everything from electronics to human anatomy, and they'd ultimately earn several professional certifications, including the CABT and CBET.



Noting that the AAMI program has "uncanny similarities" to his organization's own, Norman offered to share a few thoughts about what's worked for them over the last 12 years. "I don't know if I'd call them 'lessons learned,'" he said, "but there are some things we've done that have helped us along the way."
The most important factor, Norman explained, is to be diligent with trainee recruiting. "You've got to be really serious about finding the right person for the job. Don't just take the first person who applies, because they may not be a good fit and they're more likely to drop out." According to Norman, Australia has had great luck filling cadet positions with ex-military and people who have decided to change careers.
Another tip is to include regular practical testing so trainee progress can be easily monitored. By testing participants every week or two on the skills they've learned up to that point, you can reduce the risk they'll complete the program only to have trouble earning their certifications.
"You've got to set them up for success," he said, "and the way to do that is by having very clear objectives, both for the apprentice and for the employer."
A Step in the Right Direction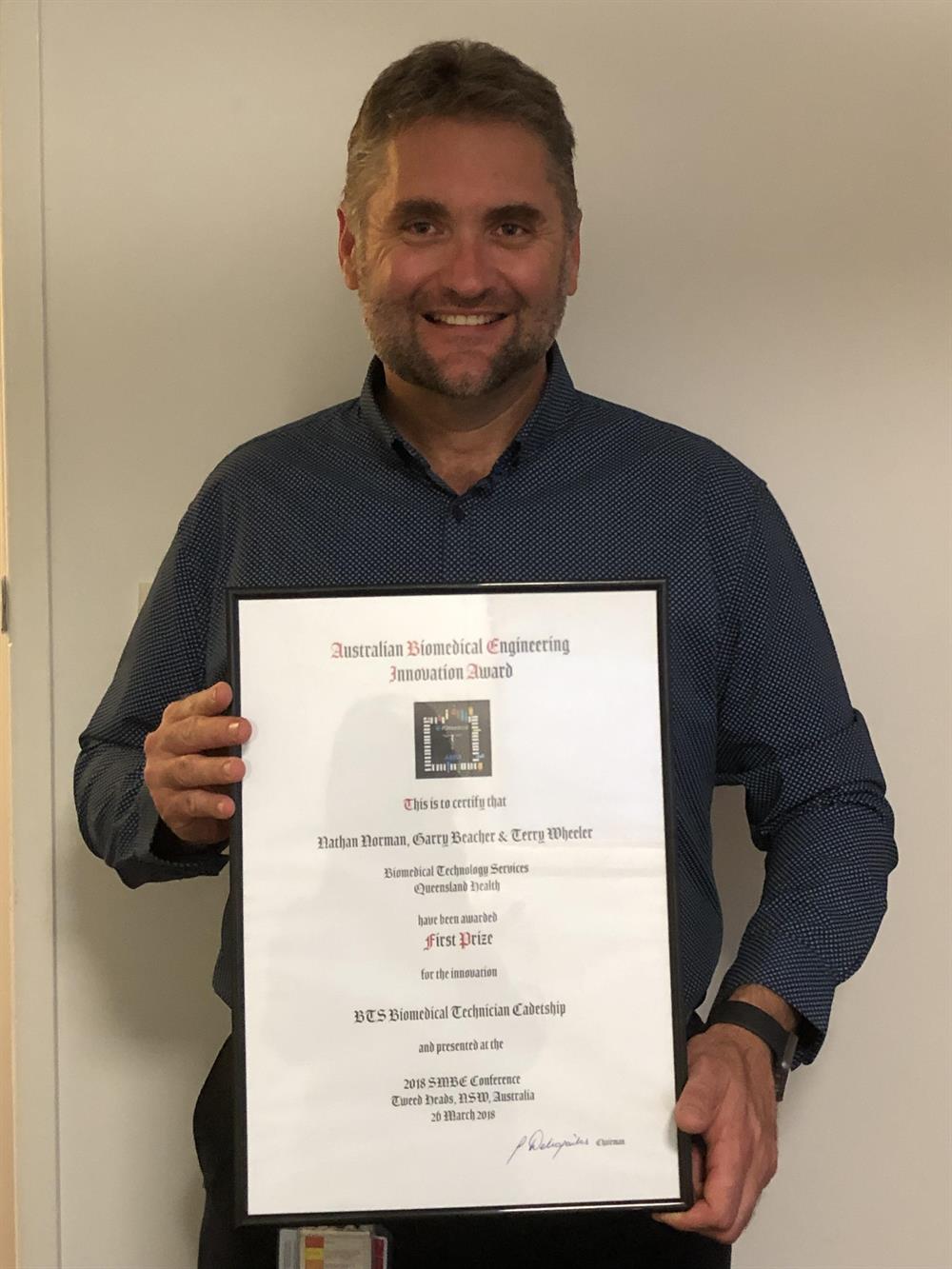 Nathan Norman poses with the Australian Biomedical Engineering Innovation Award, recognizing the success of the cadetship program.
Today, the BTS Biomedical Technician Cadetship is largely the same as it was on day one. In the 12 years since it was launched, 34 people have successfully completed a cadetship and all but five have gone on to fill positions as technicians with BTS. In 2018, the program was recognized with the inaugural Australian Biomedical Engineering Innovation Award. The honor was bestowed by the Society for Medical and Biological Engineering-New South Wales, one of the largest biomedical engineering organizations in the country.
The program hasn't solved Australia's recruitment problem entirely, Norman added, but it has been a step in the right direction.
"We haven't been able to put enough people through, because to do it right, we can really only have a maximum of two or three people at a time in one facility," he said. That's because the cadets require supervision and mentoring to ensure they master the skills they're there to learn. On the other hand, BTS has had no trouble finding people to take part in the program. "It's definitely paying dividends as it is—we just don't have the positions we'd need to expand it."
As of now, they have three cadets participating in the program. Norman and his team has just had a business plan approved to employ another four in the coming months. The COVID-19 pandemic has made finding qualified technicians harder than usual, as their recruitment pool is now smaller than ever with Australia's borders closed to applicants who may come from overseas. Meanwhile, BTS itself is focused on ensuring it has the biomedical technicians it needs to handle the additional biomedical equipment coming through its doors.
Currently, with management of the COVID-19 pandemic response at their forethoughts "additional cadets aren't at the top of the organization's priority list," Norman added, "but we are looking forward to increasing Cadet numbers to pre-pandemic levels."
Still, Norman is happy with what has been achieved and is optimistic that Australia's program will find the resources it needs to grow. "It's been a bit of a challenge lately," he said, "but I think if we continue doing what we're doing, we're going to get there in the end."