AAMI Launches COVID-19 Emergency Management Webinar Series for HTM Professionals
By: Jessica Evans
Categories: AAMI News, Health Technology Management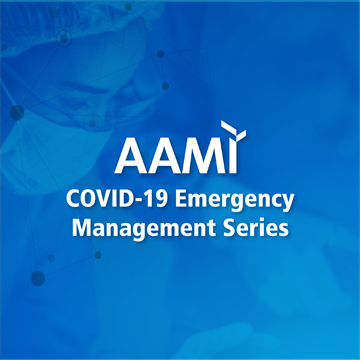 AAMI has launched a new on-demand webinar series just for members that focuses on emergency management for healthcare technology management (HTM) professionals. The first in the series is an overview of how HTM professionals need to expect the unexpected—especially relevant as healthcare delivery organizations face a worsening COVID-19 crisis.

The first 40-minute on-demand webinar, "Introduction to Emergency Management," is presented by Matt Leicester, emergency management coordinator for Chesapeake Regional Healthcare, who covers everything from an emergency management overview to hazard vulnerability assessments, emergency operations plans, and incident command. Leicester provides real-world examples of how his hospital has navigated the COVID-19 crisis as well.
Throughout the webinar, HTM professionals are encouraged to think outside their normal training capacities and understand that preparedness is never complete or perfected. This is especially true with hazard vulnerability assessments (HVA), which Leicester says are integral to being prepared.
"The important part of the HVA is that it shouldn't be done in a vacuum. It should be done with a partnership with people within facilities, security, and HTM," said Leicester.
Emergency management is a lot more than just storms and natural disasters. It's a program that's designed to create a framework that reduces vulnerability to hazards and increases the ability to respond efficiently and recover from events and disasters.
There are four phases of emergency management:
Mitigation
Preparedness
Response
Recovery
Leicester notes that most hospital facilities have good plans for hurricanes, flooding, and tornados. Still, it's more difficult to plan and prepare for terrorist events, active shooter events, and human factors issues.

HTM workers play a big role in the technological hazards that facilities face during crises. Because facilities use such highly sensitive equipment, there must have a plan in place that explores what a facility does if it loses power or HVAC and how long devices can operate before they become unusable. This means that HTM needs to be a part of the emergency planning process from the very start, and there's no better place to start than with an HVA.
Leicester reviews how to rank hazards based on the probability of something happening. This helps HTM and other facility staff determine what should be driving training events and exercises. Reviewing results is integral to ensuring a robust emergency preparedness plan, as is meeting with partners and developing holistic strategies that can quickly be implemented in the face of an emergency.
But before that can happen, Leicester stresses the need for an Emergency Operations Plan (EOP). He says that EOPs are the foundation for how a team will respond to an incident and that there have to be specific plans annexed into the overall plan. The EOP is critical for HTM professionals because it clearly identifies the roles and responsibilities of everyone included. There need to be mutual aid agreements already in place before an emergency event so that everyone is aware of how to respond. An EOP be kept up to date based on each state's accreditation requirements. This is usually done annually or following an event or disaster.
"The EOP should be a living, breathing document, not something you stick in a folder on your share drive and stash it away never to be seen again," notes Leicester.
This plan needs to include HTM professionals from the outset, as it allows the subject matter experts of medical devices to contribute to emergency preparedness. Leicester encourages HTM staff to speak about what works and what doesn't within an EOP and how best to ensure positive patient outcomes.
Most importantly, Leicester stresses the use of an Incident Command approach. This is mandated by the federal government and is designed to be flexible and scaled to each incident. Since no two events are alike, preparation for no two events is the same. Incident command avoids the duplication and allocation of resources, especially important during times of shortages as those we're experiencing with the current pandemic.
"Incident command improves planning and response capabilities, ensures recovery is completed, provides resource tracking, and provides documentation for reimbursement," notes Leicester.
Through rigorous training and exercises, HTM, and others in the clinical setting can ensure their responses are tailored to each event. Training should be based on HVA assessments and explore ways to reduce a facility's vulnerability. Training should also involve community partners, and at the core of all training should be HTM professionals.
"HTM is the keyholder to get things done," says Leicester.
The 40-minute webinar is available for free to AAMI members in the AAMI store. Other topics in the series include surge capacity planning, 3D printing, adapting to the new normal, and more. View the entire webinar series on-demand at aami.org.

---
Not yet a member? Join AAMI and you'll be able to register for this webinar and others in the upcoming series! In addition, membership offers you:

Exclusive discounts on AAMI products, events, and ACI certifications
Access to AAMI Connect members only discussion groups to network with your peers and discuss hot topics
Online subscriptions to AAMI publications
Free resume posting in the AAMI Career Center, and more!
AAMI has the resources to help you advance in your career and stay on top of the latest news in the field. Membership is available for individuals or organizations. Visit aami.org/membership to find out more and join today.

---