3D Printing Helps VA Patient Who Was 'Grasping at Straws'
By: Brian Stallard
July 15, 2021
Categories: AAMI News, HTM Professionals, Medical Device Manufacturers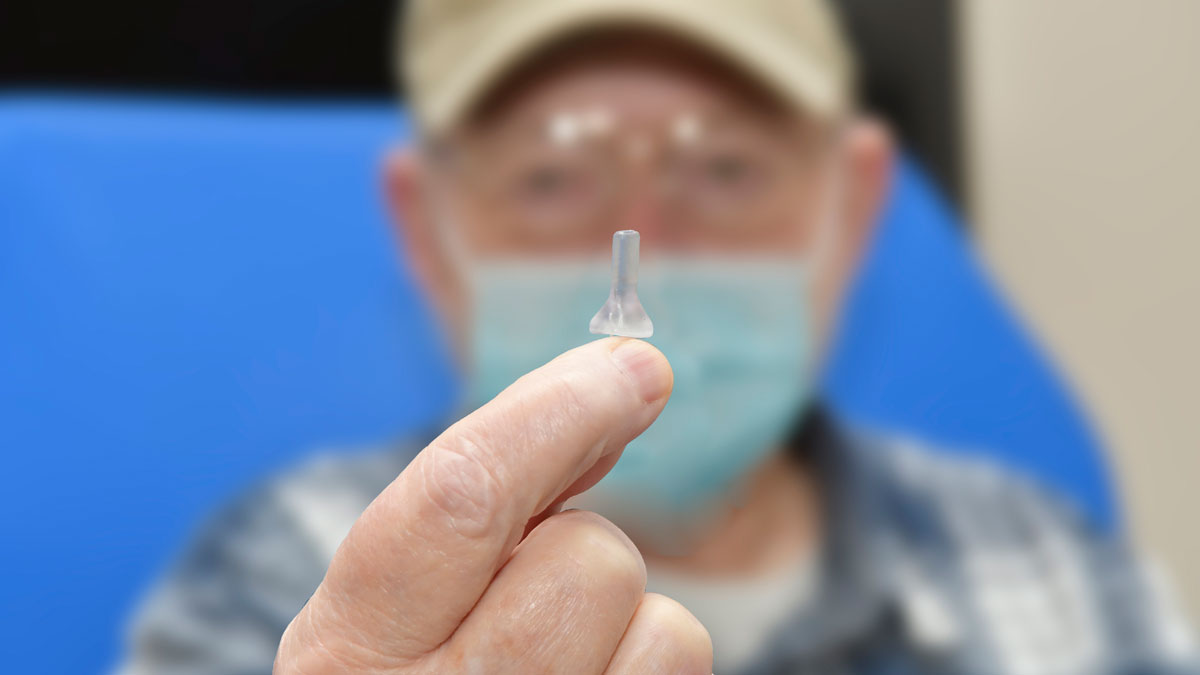 When the Additive Manufacturing team at the Ralph H. Johnson Veterans Affairs (VA) Medical Center in Charleston, SC usually makes something, the first thing they do is ask someone to break it.

"If they can break it, that just means we can make it better," explained Bethany Baldwin, a biomedical engineer working for the VA Healthcare Technology Management (HTM) department.
At a Glance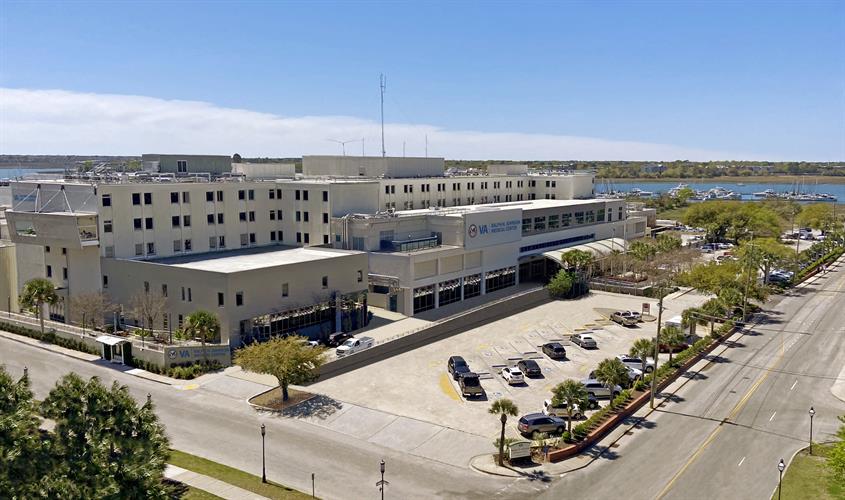 SUBJECT
3D Printing Section—Additive manufacturing team, U.S. Department of Veterans Affairs (VA)
LOCATION
Ralph H. Johnson VA Medical Center in Charleston, SC
SIZE
The VA has a workforce of more than 300,000, including more than 90,000 who are veterans.
STAFF
One supervisory biomedical engineer, three biomedical engineers, and one engineering technician.
Baldwin and her colleagues within the Additive Manufacturing section usually spend their days mass-producing PPE (personal protective equipment), creating replacement parts for equipment found around the hospital, or designing special tools to improve a device's usability. However, earlier this year, they found themselves with a unique proposition—one that is now bringing their three-dimensional (3D)-printing techniques into the patient treatment space.
Challenge
At 76 years old, Vietnam Veteran Michael Nicoletti was having an increasingly difficult time hearing. His benchmark was his television. While his wife could comfortably hear everything with a volume setting of 20, he had difficulty even making out words until it was cranked up to 45.
It was clear that he had a hearing problem, but when Nicoletti turned to the Charleston VA for help, he quickly learned that it was not the kind of problem solved with a hearing aid. Audiologist Dr. Kent Flanagan, who works at the Ralph H. Johnson VA Medical Center, diagnosed Nicoletti with acquired atresia, a condition where the ear canal collapses, muffling sound. Nicoletti's condition is particularly unusual because he has it in both ears. As a result, he'd need two separate surgeries to correct the problem.

Audiologist Kent Flanagan inspects patient Michael Nicoletti's ear.

Nicoletti wanted to avoid surgery. In fact, he had already found a tentative solution of his own—using cut drinking straws to hold his ear canal open.
When Flanagan finally heard about Nicoletti's "MacGyver" solution, he was alarmed. The danger of getting the straw stuck in the ear, or worse, injuring the ear, was very real. However, the idea got the audiologist thinking.
"You probably shouldn't do that," Flanagan told Nicoletti, "We can probably find you an alternative that can help you out."
"And that's when Dr. Flanagan turned to us for help," said Nikki Beitenman, supervisory biomedical engineer with the Additive Manufacturing team.
Solution
"I'm about to send over a drawing. It may be a little complicated for your computers to understand," Flanagan joked when he first began thinking about a more permanent solution for his patient. He sent Beitenman a rough sketch of a straw with a flange at the end to ensure Nicoletti could never push it in too deep.




Flanagan had heard about the good work Beitenman and her team were accomplishing with the use of 3D printers, and he was hoping to borrow their expertise for some personalized patient care.

"Can you make this?" he asked.
They could, but to get the device just right, it would take a lot more brainstorming.
"We went through well over a dozen prototypes of shapes, sizes, materials, and ways to insert and remove it," said Baldwin, who was responsible for much of the design work.
Her initial iteration was 3D printed from a 3D model of Flanagan's simple flanged straw design using computer-aided design (CAD) software. From there, she made alterations based on the feedback of Flanagan and Nicoletti. Ease of use, comfort, and especially biocompatibility all were factors that had to be considered.


Beitenman spent much of her time during the project ensuring they were closely following U.S. Food and Drug Administration (FDA) regulations. One misstep, she explained, and Nicoletti wouldn't have been cleared to use the device even if it felt perfect.

"We had to have a biocompatibility certification from the resin manufacturer," she offered as an example. "Of course, there's hundreds of resins on the market, but most are not pushing for this kind of testing because their products aren't usually touching the skin for very long durations. That was just one limiting factor we dealt with."
The final design is called the Gio Ear Canal Stent—named after Giovanni Anthony Nicoletti, Michael Nicoletti's grandson. According to Baldwin, each stent costs the VA only 16 cents worth of material.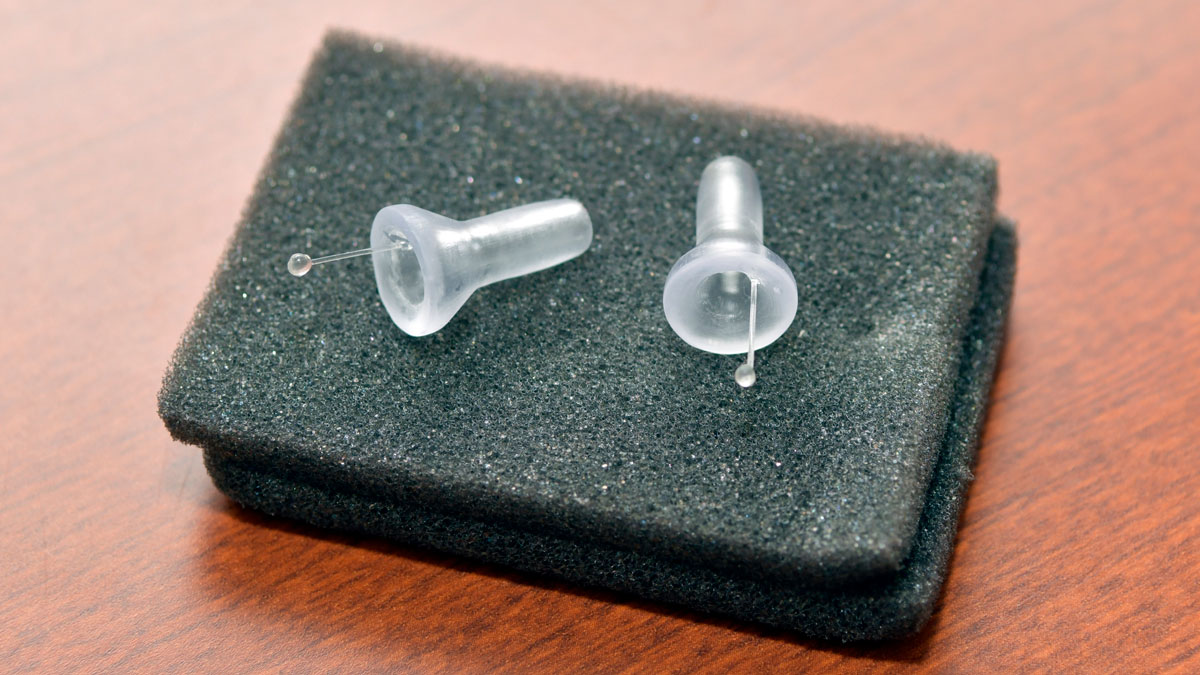 Results
When Beitenman moved to the Ralph H. Johnson VA Medical Center in Charleston, SC, in 2019, she immediately started advocating for the purchase of a 3D printer. At her previous workplace, the John Cochran VA Medical Center in St. Louis, MO, she advocated for the purchase of a large-scale FDM (fused deposition modeling) printer for prosthetic purposes, and she became extremely familiar with how much money and time a department can save with the ability to craft their own tools and parts. By the start of 2020, Beitenman and her South Carolina team had received their first printer.
"Our first couple of projects were focused on things like wheelchair accessories," she said. "It was things that we were able to produce at a much lower cost than what we were paying for otherwise. And also, we were able to get the items to patients substantially faster than ordering them on the commercial market."
"But then, as we all know, COVID came along in March 2020," she added. "Suddenly, every day was, 'How many face shields can you make?'"
To account for shortages of face shields and COVID-19 test swabs across the country, the VA granted Beitenman and her team three more printers, which gradually grew into 17, plus a laser cutter. They were also deemed a dedicated 3D-printing hub by the VA, alongside teams in Seattle, WA, who conduct design research, and Richmond, VA, who make assistive technologies.
"As a hub, we needed to get registered with the FDA as a medical device manufacturer, primarily to be able to make those COVID swabs," Beitenman explained.
However, by the time Flanagan's unusual request was bearing successful fruit, that certification proved invaluable for clearing Nicoletti to permanently use the device. In February 2021, the VA received compassionate use approval from the FDA for the Gio Ear Canal Stent.
"A lot of people have said, 'Oh my gosh, you guys did that so quick,' but we really felt like it took forever because it took us that long to actually get the device to the patient!" said Beitenman "Now, we actually know the process for the next patient. We know it's a 10- to 14-day review from the FDA, and then right after that, we flip it over to the local internal review board (IRB) and we can get approval the same day from them as long as we've kept them apprised of it coming. So, we're expecting to do this way faster moving forward. And that's also a beautiful thing for the VA because, now that we've set the stage, all the other VA centers also know exactly what to do."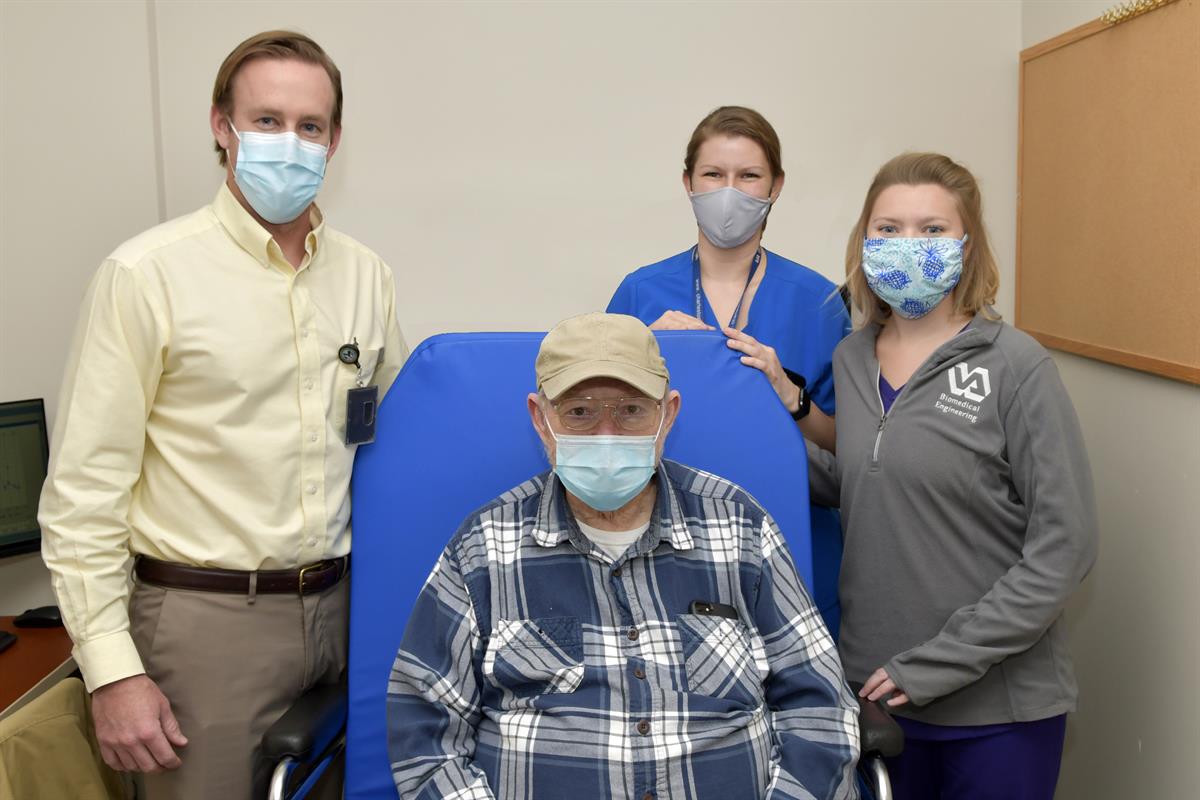 Dr. Flanagan (left), Beitenman, and Baldwin (right) stand behind Nicoletti (sitting).
Looking Forward
"People don't often think of the VA as a hotbed of innovation," Flanagan admitted during a May interview with The Today Show's Craig Melvin. "I'd love to change that."
A step in that direction is a new tacklebox strategy for his patients that Beitenman and Baldwin are helping implement.
"We basically make a little tacklebox for Dr. Flanagan that has stents printed in different material, size, and shape options," Beitenman said. "That way, when a patient comes in, they can just try different stents in the office to find the right fit."
Because the Gio Stent is currently authorized for compassionate use only, Nicoletti is the sole person who can use the prototype device. However, with the support of the VA's 3D Printing Network and the Seattle VA printing hub, the Charleston VA team is launching a multisite clinical trial—a crucial step toward broader federal approval.
"For this project, we have our staff, but also VA Director of 3D Printing Network Beth Ripley is guiding us, and the researchers in Seattle helped us write up all the documentation. VA staff in Minneapolis with a background in medical device regulation also helped us stay compliant," added Beitenman. "The thing that's great about our organization is we have people all over the country with all sorts of expertise. You ask for help, and there's someone out there who knows how!"
As for Flanagan, he admitted that recently his email and phone have been "blowing up" with requests from people interested in this novel treatment option from all over the globe.
It has been a little overwhelming, he said. "But if even one more veteran decides to come to the VA for healthcare, then that's a victory."