BI&T, the premier journal for the healthcare technology field, is issuing a call for papers in all areas, including:
Clinical engineering management
Fundamentals of devices
Instrumentation research
The future of the medical technology field
Sterilization guidance
Information technology
Innovative troubleshooting techniques
Career guidance
And more!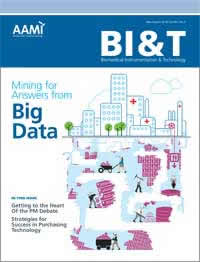 Share Your Knowledge
Share your knowledge and make a difference in your field! Please submit a brief description of your article idea by contacting Gavin Stern, editor in chief, at gstern@aami.org.
Check out our Author Guidelines.
By writing for AAMI publications, your work will reach more than 13,000 medical technology professionals. You will also receive certification renewal credit and be eligible for an annual award. If you have any questions, please contact Gavin Stern at gstern@aami.org or call 1-703-647-2781.