Long Beach, California is known for its diverse culinary scene. The marina town is the home to a wide variety of restaurants serving everything from the expected fresh seafood to less-than-expected gems of international cuisine. When planning your perfect #AAMIeXchange23 experience, be sure to consider all the great bites available to you!
We've compiled a quick list of some of the best restaurants in Long Beach that are located near the convention center. We encourage you to select one that sounds the best, and let your culinary adventure begin!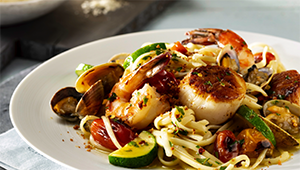 435 Shoreline Village Dr. Long Beach, CA 90802
A proud recipient of Wine Spectator's Award of Excellence, Parkers' Lighthouse is known for its mesquite grilled fresh seafood and spectacular views, and is home to a beautiful two-story wine cellar.
285 E 3rd St, Long Beach, CA 90802
Downtown Long Beach restaurant Ammatoli has a menu straight from the Levant region that encompasses Iraq, Syria, Lebanon, Cyprus, Turkey, Israel, Jordan, and Palestine, with dishes that have a familiar and delicious Mediterranean ring. The details are beautiful, with tea service, gorgeous dishes and plates to display the fare.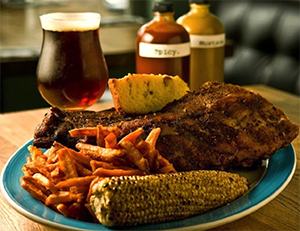 210 E 3rd St, Long Beach, CA 90802
This popular brewery and restaurant is known for its award-winning BBQ and craft beer selection. They offer a range of smoked meats, including brisket, pulled pork, and ribs, as well as a variety of sides. Beachwood BBQ is located just a few blocks from the Convention Center, making it a convenient spot for lunch or dinner.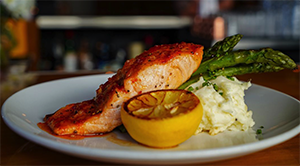 201 Pine Ave, Long Beach, CA 90802
At this corner of 201 Pine Avenue the first saloon license in Long Beach was issued to Dennis J. McCarthy in May 1890. The Carvery Restaurant stands on a corner of history in Long Beach. Known for its high-quality cuts of steaks and historical ambiance, a visit to The Carvery would be a great addition to your Long Beach experience.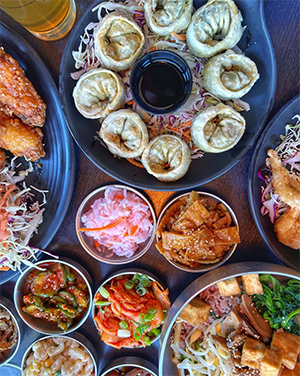 621 Atlantic Ave, Long Beach, CA 90802
While Sura may not compete with some of Koreatown's finest dining gems, one of Long Beach's only Korean restaurants does just fine by introducing the community to bubbling tofu soups, bibimbap, plus Korean tacos and sopes. Anything to save a trip up north to K-Town (or south to Garden Grove).
Long Beach has no shortage of great restaurants to choose from—whether you're in the mood for an exciting new bite, the Pacific's freshest seafood, or some down-home BBQ, there's something for everyone. Read about more great restaurants in Long Beach at this EATER: Los Angeles blog. We look forward to hosting you at the AAMI eXchange 2023!