IoT & AI track at eXchange
AAMI eXchange will once again offer three days of best-in-class educational sessions led by recognized experts in the health technology field. More than 80+ education sessions are available for attendees to advance their career. For those specifically interested in IoT & AI, Ordr is sponsoring a track of education sessions specifically curated to give attendees a comprehensive understanding of this critical intersection.
There are an estimated 31 billion IP-enabled devices connected to networks today. That number is expected to increase to 35 billion by 2025. With nearly 15 Internet of Medical Things (IoMT) and Internet of Things (IoT) devices per bed, hospitals remain challenged to identify, monitor, and secure these mission critical assets and protect them from cyberthreats. In healthcare organizations, IoMT devices are essential components of patient monitoring, treatment, and diagnostics services while additional IoT and operational technology (OT) devices control facilities, improve operations, and enhance communications. All are a critical part of the patient care and patient safety experience and need to be secured.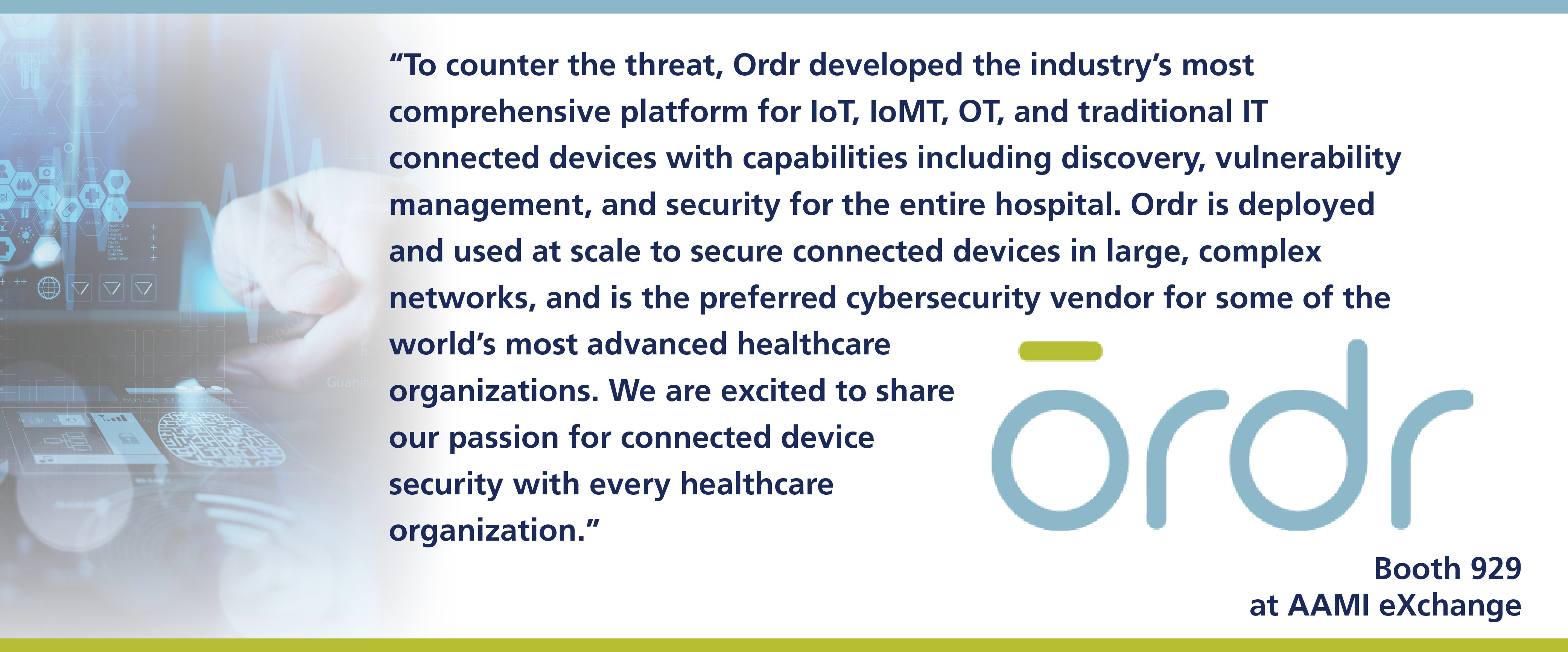 The IoT & AI track will specifically help HTM professionals to:
Enable real-time asset inventory of devices correlated with your CMMS/CMDB
Identify risks such as devices with vulnerabilities, under recall, or running outdated operating systems
Locate missing or misplaced devices
Understand device utilization for better efficiencies and to support procurement decisions

Here is the full session list for the IoT & AI track:
Saturday, June 17
7:15 AM-7:45 AM
How to Talk About AI So Clinicians Will Listen
Erin Sparnon, MEng, ECRI
Your clinicians have just told you they want a new AI-enabled technology. What questions should you be asking them, your administration, and your vendor to ensure that (1) your facility defines what they expect to gain from the new technology and (2) the new technology will meet these expectations given your population, culture, and infrastructure.
8:00 AM-9:00 AM
Assuring Safe and Secure Interoperability of Your Medical System
Geetha Rao, PhD, Springborne Life Sciences and Anura Fernando, UL Solutions
This session focuses on practical aspects of assuring safe and secure implementation of interoperable medical systems and maintaining continued safety and security over their life cycle. The panelists will review the interoperability management life cycle model based on the AAMI-UL 2800 series of standards. They will also discuss practical aspects of implementing the model, including identifying appropriate safety and security objectives, collaborating with multiple stakeholders in the interoperable medical system, and appropriate points of information exchange and types of information to be exchanged.
9:15 AM-10:15 AM
Novel Strategies for the Use and Management of Surgical Media
Hayley Rutkey, BS, Massachusetts General Hospital and Ramakrishna Parchuri, MS, Massachusetts General Hospital
Hospitals are increasingly finding value in and uses for surgical videos. This ranges from basic, including electronic medical record (EMR) documentation, to futuristic, using massive amounts of video to develop predictive AI algorithms. Other uses include QA, training, and research. At MGH, we capture video from operating room (OR) integration systems, Occupational and Environmental Medicine (OEM) and multi-vendor recorders, and more. Video archiving, exported to the EMR, and routed to research servers, and other applications. To achieve this, we created a media repository capable of performing these functions while providing clinicians access to editing and management tools. We will discuss the challenges and successes of implementing this system.
SUNDAY, JUNE 18
8:00 AM-9:00 AM
How the Adoption of AI is Changing the Security Landscape
Inhel Rekik, MS, CISM, Bracco Medical Technologies and Erin Sparnon, MEng, ECRI
AI is becoming increasingly adopted in the healthcare industry, which allows opportunity for better diagnoses of diseases resulting in more accurate treatment. However, AI brings its own security and privacy concerns. When not managed properly, AI could cause harm to the patient. This session provides an overview of the emergent AI applications in medicine and an outline of emergent AI threats to security and risks associated with privacy. It concludes with how to safely and securely adopt AI in patient care settings.
9:15 AM-10:15 AM
Smarter Equipment Management Using AI and Analytics
Sabih Zaman, MS, GE HealthCare and Jean Michel Gard, MS, GE HealthCare
Are you using the performance data from your medical devices to make smart fleet management decisions? How do you know if devices are working and collecting data to perform maintenance and repairs before they fail? Learn about the different types of datasets available, how to use analysis tools for connected IoT and the impact on staff, equipment manufacturers, and service providers.
4:15 PM-5:15 PM
Using AI on Big Data: Creating Succinct Clinical Summaries
Kristen McLaughlin, MA, New York State Office of Mental Health and Nitin Gupta, MS, New York State Office of Mental Health
Big data presents an opportunity to integrate massive volumes of clinical data which can provide critical information for treatment providers and helps improve quality of health care. To be useful at the point of care, key information in clinical decision-making tools need rapid scanning within a fast-paced clinical treatment environment. Using deductive content analytic methods to synthesize participant feedback, the team designed specific algorithms to examine and summarize terabytes of data by applying evidence-based analytics into a clinically meaningful construct (e.g., episodes of care, medication trials, service settings), resulting in a succinct clinical summary.
Thank you to our sponsor Ordr for bringing this important learning to the AAMI eXchange!