Protective Equipment Delivered to COVID-19's Unsung Heroes
June 12, 2020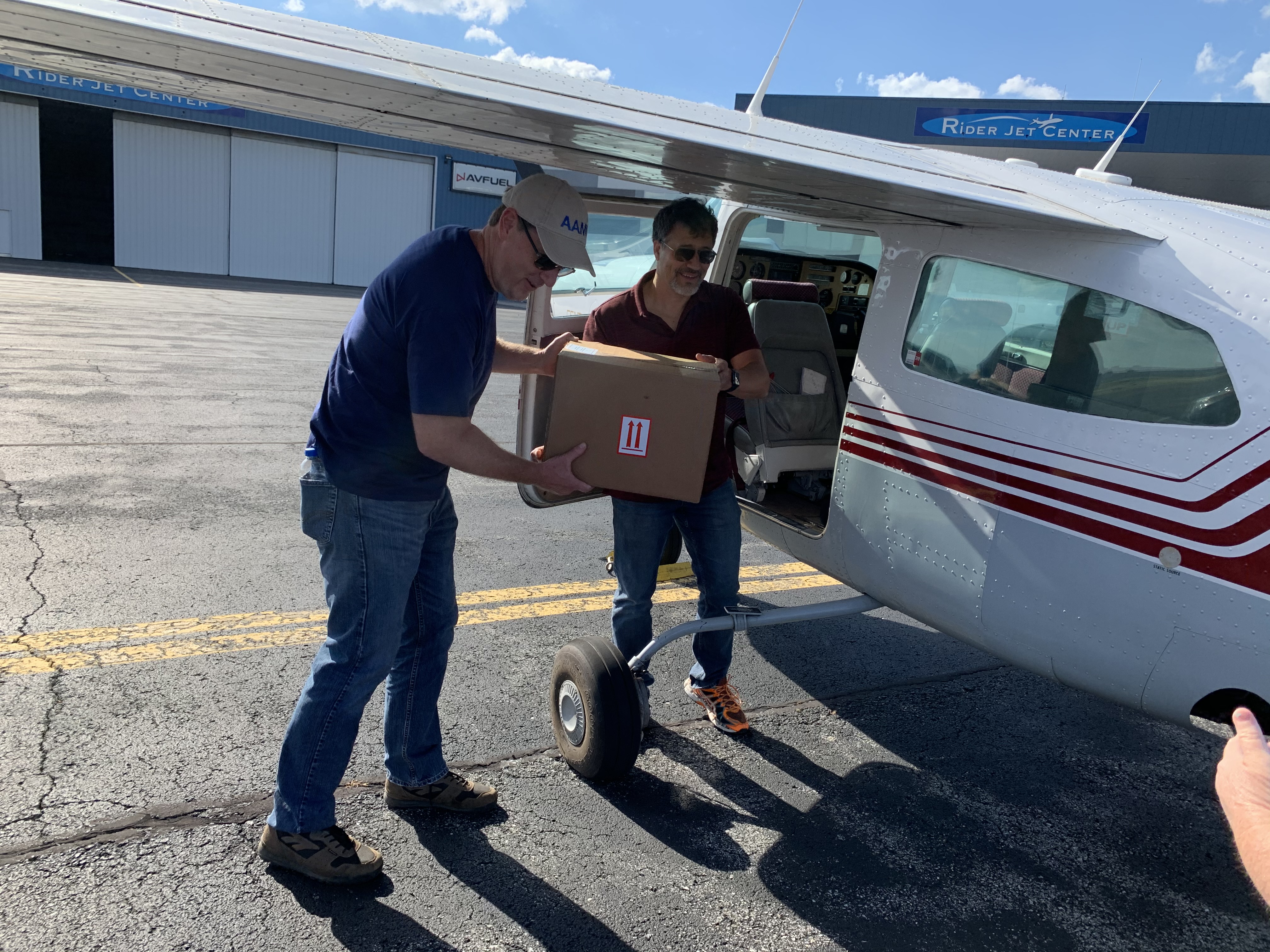 For Immediate Release
Media Contact: Gavin Stern, gstern@aami.org, 703-647-2781
ARLINGTON, VA—Volunteers have just finished flying thousands of 3D-printed face shields to healthcare's unsung heroes of the COVID-19 pandemic.
AAMI, a nonprofit that supports HTM professionals and medical device safety, recently distributed a shipment of 2,000 face shields—desperately needed personal protective equipment—to the healthcare technology management professionals who are responsible for managing and maintaining critical medical devices and equipment, such as ventilators.
"When you hear about ventilators and other important medical equipment that's being used to treat patients during COVID-19, healthcare technology management professionals are the folks that keep it all running, on the front lines with the rest of the hospital staff," said AAMI senior vice president Robert Burroughs. "We can't be more thankful to the volunteers and organizations at every step along the way to get this PPE to where it's most needed."
Video and image files are available for download and use by the media. Contact Gavin Stern at gstern@aami.org for more information.
This shipment was delivered by volunteer Aerobridge pilot and emergency physician Carlos Falcon in Hagerstown, MD, on Thursday, June 11.
"Emergency physicians have a reputation for being adrenaline junkies, which is one of the reasons why I love to fly. I'm very fortunate that I'm able to take something that I love and use it to help others," said Falcon, who flew the 2,000 face shields roundtrip to from Iowa in the back of his Cessna airplane.
The face shields were then unloaded by medical students Amrita Balram (Medical University of the Americas) and Alyson Rich (Penn State) of GetUsPPE and delivered to HBP Inc, which donated fulfillment services. The shields will then be distributed to healthcare facilities in Boston, MA; Hartford and New Haven, CT; Flint, MI; Bethesda, MD; and Chandler, AZ. Additional shipments of 3,500 are planned for New York City/Newark, NJ, and 500 to Lawrenceville, GA.
AAMI secured this donation of PPE from Response4Life, a nonprofit working to distribute medical equipment in times of need, and Maker Nexus a Sunnyvale, CA, based maker space that has rallied more than 600 makers that were idled by COVID-19 to produce PPE using their personal 3D printers, laser cutters, and sewing capabilities.
So far, their effort has delivered more than 58,000 face shields. Along with Salesforce.com, Response4Life has developed an efficient, low-friction supply chain to mobilize the maker community and small manufacturers to deliver PPE and supplies to where they're needed.
"I am honored and proud to be part of this effort to help HTM workers," said Don Landwirth, a board member of Maker Nexus. "I have been amazed at the generosity of thousands of people to pay for, make and distribute our face shields. Everything is sent as a thank you to the dedicated HTM and healthcare workers around the US, and we hope these will help, in part, to keep them all a little safer."
AAMI (www.aami.org) is a nonprofit organization founded in 1967. It is a diverse community of more than 9,000 healthcare technology professionals united by one important mission—supporting the healthcare community in the development, management, and use of safe and effective health technology. AAMI is the primary source of consensus standards, both national and international, for the medical device industry, as well as practical information, support, and guidance for health technology and sterilization professionals.