Advertisement
Symposiums
Symposiums
Clinical Engineering Symposium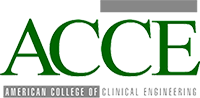 Presented by ACCE - Sponsored by

Saturday, June 4 – 7:15 a.m.–10:15 a.m. - Registration Now Open HERE
The Three R's Round Table - Recruitment, Retention, Recognition

Angela Bennett, Sr. Area General Manager/CE Director, Sodexo HTM
Nader Hammoud, CHTM, Integrated Manager-Healthcare Technology, John Muir Health
Perry Kirwan, VP Technology Management, Banner Health
Codi Nelson, CBET, Program Director, Healthcare Technology Solutions, Crothall Healthcare
Struggles acquiring and retaining qualified HTM/CE professionals are being felt by everyone around the world. How can we improve recruitment efficiencies, refine strategies for employment retention, and appropriately recognize HTM/CE professionals? Come to share your thoughts, your lessons learned, and your best practices. Make your Voice heard!

Industry Symposiums




Sponsored by CyberMDX - A Forescout Company
Sunday, June 5 – 6:45 a.m.-8:00 a.m. -
Registration Now Open HERE
Medical Device Cybersecurity - Address Complexity and Effeciency Challenges
Axel Wirth, CPHIMS, CISSP, HCISPP, AAMIF, FHIMSS - Chief Security Strategist at MedCrypt
David Clapp, Senior Systems Engineer at Forescout
Managing thousands of connected medical devices without smart, automated tools is a highly laborious, tedious task. In addition to detailed classification, location tracking, utilization, downtime scheduling, and recall tracking, you also need to manage and maintain their security posture.
Security must be part of the medical device lifecycle for manufacturers and clinical engineers. Many promising concepts have been put forward, like vulnerability sharing based on software bill of materials (SBOM). Yet, we should not underestimate the complexities we need to address so to allow reliable and efficient execution.
Join this session to learn about possible approaches and a path forward.



Sponsored by TRIMEDX
Monday, June 6 – 6:45 a.m.-8:00 a.m. - Registration Now Open Here
Clinical Engineering: A Comprehensive, Technology Enabled Solution
Clinical engineering is much more than just a break/fix function. Especially in today's tumultuous environment, medical devices and the biomed teams that service them should be treated as valuable clinical assets. When viewed through this lens, they have the power to be a strategic lever that improves device availability and clinician satisfaction, mitigates cyber risks, reduces operational expenses, and optimizes capital spending.
Join us to learn how a comprehensive, technology-enabled clinical engineering program can help organizations gain full control of their medical device portfolio.