Advertisement
You're invited to San Antonio, TX from June 3-6 for AAMI eXchange 2022!


We could not be more thrilled to invite you to our in-person 2022 AAMI eXchange event in festive San Antonio, TX! Claim your spot now at the premier event for the convergence of the HTM and the health technology sectors!


Here's why you can't miss the 2022 AAMI eXchange: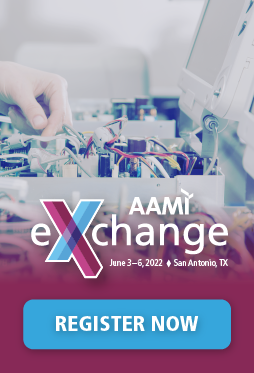 Who Should Attend?
Our attendees include a broad expanse of professionals involved in medical device design, manufacturing, servicing and repair and represent the entire medical device lifecycle, including:
biomedical and clinical engineers
technicians
IT and cybersecurity professionals
industrial and hospital sterilization professionals
hospital administrators and managers
healthcare service and solution providers



What to Expect
We promise to:
Deliver new opportunities to exchange ideas, expand networks, and experience new technologies to empower professionals around the world—now and into the future.
Engage attendees with innovative learning. The 2022 education program will deliver an immersive and interactive learning environment for professionals of all experience levels. The program will deliver tracks on cybersecurity, sterilization, global perspectives, HTM and more. The exhibit hall will showcase new and emerging products and technologies, and virtual reality theater. In addition, the networking events will facilitate relationship building and the sharing of best practices with peers from across the world.
Confirm AAMI's focus on year-round excellence and reinvestment in the health technology profession in the form of professional development, certification, peer-to-peer communities, and development of standards, white papers, and best practices.
Questions?
Email the AAMI Exchange staff at exchange@aami.org

Health and Safety at AAMI eXchange 2022

While AAMI encourages all individuals to be fully vaccinated prior to attending the event, proof vaccination will not be required. AAMI supports and encourages attendees, speakers, and exhibitors that wish to wear a mask to do so, but at this time, they are not required.
AAMI reserves the right to require masks if circumstances change. We will have masks available at the event.
All Attendees, Exhibitors, Speakers, and Staff Should:
Not attend the AAMI eXchange if they are experiencing any flu-like symptoms.
Wash hands often with soap for at least 20 seconds and/or use an alcohol-based hand sanitizer.
Avoid touching their eyes, nose, and mouths with unwashed hands.
Engage in responsible health and safety practices while attending the AAMI eXchange.
AAMI recommends all attendees, exhibitors and staff comply with travel guidelines issued by the CDC when traveling to San Antonio, Texas.
Henry B. Gonzalez Convention Center Status
The Convention Center has received recertification for the Global BioRisk Advisory Council (GBAC) STAR Accreditation. GBAC is a division of International Supply and Sanitary Association (ISSA), the worldwide cleaning association. This accreditation program assesses cleaning and disinfection practices and infectious-disease prevention. GBAC is an accreditation created for outbreak prevention, response and recovery establishing requirements to control risks associated with infectious agents, such as the virus that causes COVID.
Protocols in Place at the Convention Center:
All staff and contractors were trained on COVID-19 sanitation procedures. Contractors receive updated information regarding new processes and procedures for consistent operations as necessary.
UV Lighting was installed on escalators and continually sanitizes handrails.
The frequency of sanitizing was increased in all front and back of house spaces with an emphasis on high touch point areas.
Hand sanitizing stations and sanitizing wipes are located throughout the facility.
Cleaning products are on the Environmental Protection Agency (EPA)-approved list for use against COVID-19 and staff follow product instructions.
Our UV Light Robot is used to effectively disinfect areas.
Doors may be propped open in some areas to minimize contact.